Technical Note

Open Access
Fisher: a program for the detection of H/ACA snoRNAs using MFE secondary structure prediction and comparative genomics – assessment and update
BMC Research Notes
2008
1:49
Received: 03 April 2008
Accepted: 21 July 2008
Published: 21 July 2008
Abstract
Background
The H/ACA family of small nucleolar RNAs (snoRNAs) plays a central role in guiding the pseudouridylation of ribosomal RNA (rRNA). In an effort to systematically identify the complete set of rRNA-modifying H/ACA snoRNAs from the genome sequence of the budding yeast, Saccharomyces cerevisiae, we developed a program – Fisher – and previously presented several candidate snoRNAs based on our analysis [1].
Findings
In this report, we provide a brief update of this work, which was aborted after the publication of experimentally-identified snoRNAs [2] identical to candidates we had identified bioinformatically using Fisher. Our motivation for revisiting this work is to report on the status of the candidate snoRNAs described in [1], and secondly, to report that a modified version of Fisher together with the available multiple yeast genome sequences was able to correctly identify several H/ACA snoRNAs for modification sites not identified by the snoGPS program [3]. While we are no longer developing Fisher, we briefly consider the merits of the Fisher algorithm relative to snoGPS, which may be of use for workers considering pursuing a similar search strategy for the identification of small RNAs. The modified source code for Fisher is made available as supplementary material.
Conclusion
Our results confirm the validity of using minimum free energy (MFE) secondary structure prediction to guide comparative genomic screening for RNA families with few sequence constraints.
Keywords
Secondary Structure Prediction
Hairpin Structure
Minimum Free Energy
Small Nucleolar RNAs
Pseudouridine
Findings
Small nucleolar RNAs (snoRNAs) guide nucleotide modifications of ribosomal RNAs (rRNAs), as well as an expanding repertoire of cellular RNAs [4, 5]. SnoRNAs can be divided into two broad families: the C/D-box snoRNAs that guide site-specific 2'-O-methylation of ribose [6, 7], and the H/ACA snoRNAs [8, 9] that guide specific conversions of uridine (U) to pseudouridine (ψ).
Both H/ACA and C/D-box snoRNAs target the exact nucleotide for modification via base-complementarity to their target molecule, thereby permitting sequence-specific binding to the region of the target to be modified. Based on the guide regions as well as other known sequence motifs and structural elements, search tools have been developed both to identify C/D-box [10, 11] and H/ACA snoRNAs [1, 3, 11], and, more recently, snoRNAs with no known target sequence [12, 11]. Tools are also available for screening archaeal genomes for snoRNA-like sRNAs [13–15].
We previously developed the program Fisher as a tool to screen for H/ACA snoRNAs in the genome of the budding yeast,
Saccharomyces cerevisiae
[
1
]. Since the conserved sequence motifs of the H/ACA box snoRNAs are short (and in the case of regions of intermolecular interaction with rRNA target molecules, discontinuous) (Figure
1
) the H/ACA box snoRNAs are harder to identify based on sequence motifs only, and Fisher therefore relies on both primary and secondary structure searches. However, Fisher suffers from a high frequency of false positive predictions (a large number of potential candidates are predicted, but many of these will not be true snoRNAs), and so additional screening of the Fisher candidates is necessary. This is likewise true for the snoGPS program [
3
].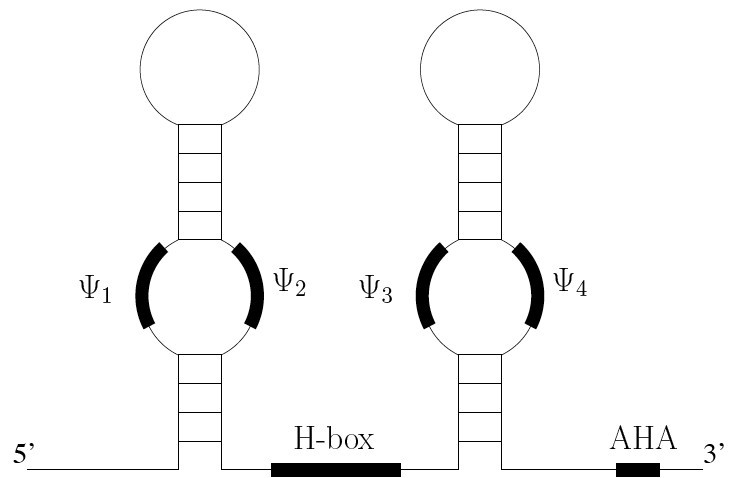 In this report we describe some minor modifications to Fisher, a brief update on the candidate snoRNAs we reported in Edvardsson et al. [1], and a comparative genome analysis using 14 available yeast genome sequences which heavily reduced the number of false positives and enabled us to identify three yeast snoRNAs not identified by Schattner and colleagues' snoGPS program. We therefore provide a brief comparison of the two search strategies.
The core bioinformatic analyses reported forthwith were completed in 2004, but while we were working to experimentally characterize three candidates arising from our screen, Torchet et al. [2] published a characterization of those same candidates, which they found independently using a lab-based experimental approach. Hence we elected not to pursue the project further. We present the bioinformatics part of our previous study on account of the fact there are ongoing requests for the source code of Fisher, and we therefore wish to provide additional information and results to those originally presented in Edvardsson et al. [1] concerning the potential utility of this program, including confirmation that such a strategy can in principle be used on other datasets. A brief description of the algorithm follows. For a full description, see [1]. For the source code of Fisher, see Additional file 1.
The Fisheralgorithm in brief
The essence of the algorithm is as follows. First the search is made for an H-box of the form AN1AN2N3N4N5. This is then scored using a probabilistic model. If the score is acceptable the H-box is accepted. The algorithm then searches downstream for ψ3 and ψ4 motifs (see Figure 1, Table S1 in Additional file 2) in appropriate locations. Then the algorithm continues to search for the AHA sequence. The complete H-AHA region together with a variable upstream sequence from the H-box is then passed to the secondary structure filters where acceptable folds are investigated. It is also possible to require a hairpin to the left of the H-box containing ψ1 and ψ2 motifs (see Figure 1, Table S1 in Additional file 2) in appropriate locations. The candidates are scored depending on both primary and secondary structure.
Conclusion
Our analyses demonstrate that, in spite of the high false positive rate apparent when screening a single genome, the Fisher algorithm is effective if used in combination with a comparative genomics analysis. The combined approach reported here resulted in a small number of candidates, thereby permitting subsequent experimental screening for bona fide snoRNAs. This report confirms the utility of minimum free energy (MFE) secondary structure prediction as a method for screening for families of structural RNA with few sequence constraints, and demonstrates the effectiveness of combining secondary structure with comparative genome data.
Availability and requirements
Project name: Fisher (snoRNA search)

Project home page: N/A

Operating system(s): Platform independent

Programming language: C

Other requirements:Vienna RNA Package, see

License: Freeware

Any restrictions to use by non-academics: None
Declarations
Acknowledgements
We gratefully acknowledge the efforts of A. R. Gore, A. M. Idicula & P. A. McLenachan who contributed to the experimental screen of the candidates presented in [1]. We also thank Paul Gardner for assistance and advice on RNA structural analyses. AMP acknowledges the support of the Knut and Alice Wallenberg Foundation, and the New Zealand Marsden Fund.
Authors' Affiliations
(1)
The Linnaeus Centre for Bioinformatics, Uppsala University, Uppsala, Sweden
(2)
Department of Natural Sciences, Mid Sweden University, Sundsvall, Sweden
(3)
Department of Molecular Biology & Functional Genomics, Arrhenius Laboratories for Natural Sciences, Stockholm University, Stockholm, Sweden
(4)
School of Computing Sciences, University of East Anglia, Norwich, UK
(5)
School of Biological Sciences, University of Canterbury, Christchurch, New Zealand
(6)
Department of Clinical Microbiology, Clinical Bacteriology, Umeå University, Umeå, Sweden
(7)
Department of Biochemistry & Molecular Biology, Dalhousie University, Halifax, Canada
Copyright
© Freyhult et al; licensee BioMed Central Ltd. 2008
This article is published under license to BioMed Central Ltd. This is an Open Access article distributed under the terms of the Creative Commons Attribution License (http://creativecommons.org/licenses/by/2.0), which permits unrestricted use, distribution, and reproduction in any medium, provided the original work is properly cited.