Conservation of CD44 exon v3 functional elements in mammals
BMC Research Notes
2008
1:57
Received: 07 March 2008
Accepted: 29 July 2008
Published: 29 July 2008
Abstract
Background
The human CD44 gene contains 10 variable exons (v1 to v10) that can be alternatively spliced to generate hundreds of different CD44 protein isoforms. Human CD44 variable exon v3 inclusion in the final mRNA depends on a multisite bipartite splicing enhancer located within the exon itself, which we have recently described, and provides the protein domain responsible for growth factor binding to CD44.
Findings
We have analyzed the sequence of CD44v3 in 95 mammalian species to report high conservation levels for both its splicing regulatory elements (the 3' splice site and the exonic splicing enhancer), and the functional glycosaminglycan binding site coded by v3. We also report the functional expression of CD44v3 isoforms in peripheral blood cells of different mammalian taxa with both consensus and variant v3 sequences.
Conclusion
CD44v3 mammalian sequences maintain all functional splicing regulatory elements as well as the GAG binding site with the same relative positions and sequence identity previously described during alternative splicing of human CD44. The sequence within the GAG attachment site, which in turn contains the Y motif of the exonic splicing enhancer, is more conserved relative to the rest of exon. Amplification of CD44v3 sequence from mammalian species but not from birds, fish or reptiles, may lead to classify CD44v3 as an exclusive mammalian gene trait.
Keywords
Heparan Sulfate
Exonic Splice Enhancer
Variable Exon
Splice Regulatory Element
Exonic Splice Enhancer Motif
Background
The CD44 family of transmembrane glycoproteins mediates the response of cells to their extracellular microenvironment by regulating growth, survival, differentiation and motility. All human CD44 proteins are encoded by a single, highly conserved gene containing 20 exons, 12 of each undergo alternative splicing [
1
] (see figure
1A
). Complex alternative splicing of the central region of the gene is responsible for the incorporation of the variable domains to shape, predominantly, the extracellular, membrane-proximal stem structure of the protein. The heterogeneity of the CD44 protein products can be further increased by post-translational modifications [
1
–
4
]. The sequence encoded in exon v3 contains an optimal Ser-Gly-Ser-Gly (SGSG) consensus motif for modification by heparan sulfate (HS) side chains, to which several heparin-binding proteins attach [
5
]. This unique HS addition site is critical for CD44v3 isoforms' capacity to bind and present HS-dependent growth factors.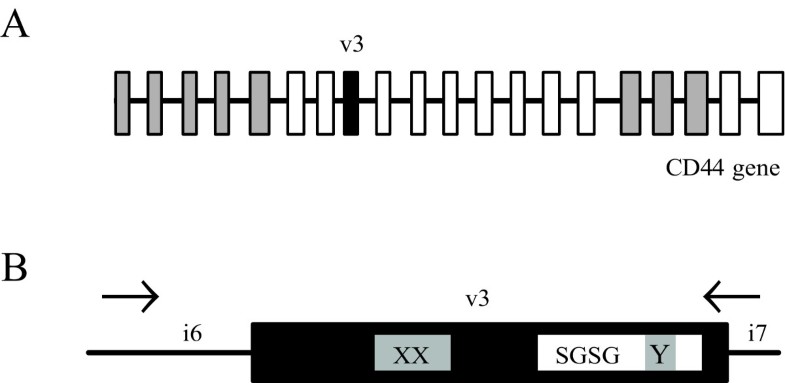 Human variable exon v3 can follow a specific alternative splicing route different from that affecting other variable exons so it can be included in the mRNA together with other variable exons or independently from them [6, 7]. This inclusion is regulated by a multisite bipartite exonic splicing enhancer (ESE) consisting in a tandem nonamer (XX motif) and a heptamer (Y motif) that act cooperatively for the efficient recognition of the splice sites [8]. The XX motif is located centrally in the exon while the Y motif is located within the sequence coding for the glycosaminglycan (GAG) binding site immediately downstream from the SGSG motif in v3 (figure 1B).
In order to address the existence and functional nature of the XXY ESE in non-human species we have evaluated the overall level of conservation of CD44 exon v3, including its splicing regulatory elements-the 3' splice site (3'ss), the XXY splicing enhancer- and the GAG binding site, in 95 mammalian species. We also provide data of CD44v3 inclusion into mRNA from peripheral blood samples, by means of RT-PCR, in some representative mammalian taxa with differing levels of conservation of the sequence elements analyzed.
Methods
Frozen (-80°C) blood samples were selected from the animal tissue bank of the Department of R+D+I, Laboratorio Dr. Echevarne, Barcelona, Spain. Genomic DNA was isolated from 200 μl of blood using the NucleoSpin Blood kit (Macherey-Nagel) following manufacturer's instructions. PCR amplification of CD44v3 was performed with INT6SF and I7wtR primer set or -49v3F and I7wtR primer set (table
1
) using PCR Master Mix (Promega). PCR bands of interest were isolated from agarose using the NucleoSpin Extract II kit (Machery-Nagel), sequenced in both directions with the primers used during PCR and the CEQ Dye Terminator Cycle Sequencing Quick Start kit (Beckman Coulter) and analyzed in a CEQ 8800 Genetic Analysis System (Beckman Coulter). All sequences were edited to remove ambiguous base calls and primer sequences and submitted to GenBank.
| Primer | Region | Sequence |
| --- | --- | --- |
| INT6SF | Intron 6 | 5'-ACCTTCTGTGCCTGATTTTC-3' |
| I7wtR | Exon v3-intron 7 | 5'-AATTGATTATTCTTACTGGTGCTGG-3' |
| -49v3F | Intron 6 | 5'-GCTTGGCGTCCAGCTCAG-3' |
| E20F-VI | Exon 20 | 5'-GGGCAGAAGAAAAAGCTAGTNAT-3' |
| E20R-QEM | Exon 20 | 5'-CCAAATGCACCATYTCYTG-3' |
| 13v3F | Exon v3 | 5'-ATATCATCTCAGCAGGCT-3' |
| 100v3R | Exon v3 | 5'-TCATCAATGCCTGATCCA-3' |
CD44 RT-PCR was performed from total RNA extracted from frozen blood samples with a modification of the QIAamp RNA Blood Mini kit protocol (QIAGEN). Briefly, 150 μl of frozen blood were lysed at 70°C for 10 min with RLT/β-mercaptoethanol buffer containing 4 mg/ml Proteinase K and centrifuged at 10,000 × g for 3 min. 450 μl of the lysate supernatant were mixed with 225 μl of absolute ethanol and loaded in a QIAamp spin column following manufacturer's instructions. Eluted RNA was treated with RQ1 RNase-free DNase (Promega) at 37°C for 30 min and purified following the QIAamp RNA Mini protocol for RNA cleanup (QIAGEN). The first-strand reaction was performed with random primers (Promega) and SuperScript II Reverse Transcriptase (Invitrogen). As control of RNA quality, total CD44 isoforms were amplified with degenerate E20F-VI and E20R-QEM primer set (table 1) using GC-Rich PCR System (Roche).
In order to amplify CD44v3 containing isoforms, PCR primers were designed based on a multiple sequence alignment containing the sequences corresponding to the 95 mammalian species. Exon v3 positions that showed full conservation were identified and selected to locate the 3' ends of the primers ensuring perfect matches. According to this, v3 amplification was perfomed with primers 13v3F and 100v3R (table 1) and PCR Master Mix (Promega). As control of complete genomic DNA digestion, non reverse-transcribed RNAs were tested amplification negative with primers 13v3F and 100v3R.
Molecular conservation analyses were conducted using the MEGA version 3.1 software [9] and sequence logos were generated with the WebLogo application [10].
Abbreviations
SGSG:

Ser-Gly-Ser-Gly
HS:

heparan sulfate
ESE:

exonic splicing enhancer
GAG:

glycosaminglycan
3'ss:

3' splice site.
Declarations
Acknowledgements
This work was supported in part by PROFIT-01000-2004-212 from the Spanish Ministry of Industry, Tourism and Trade. EV is registered at the Department of Cellular Biology, Physiology and Immunology at the Autonomous University of Barcelona, Spain, for PhD programme administration purposes.
Authors' Affiliations
(1)
Department of R+D+I, Laboratorio Dr. Echevarne, Barcelona, Spain
(2)
Zoo-Aquarium de Madrid, Parques Reunidos, Spain
(3)
Parc Zoològic de Barcelona, Spain
(4)
Fundación Echevarne, Barcelona, Spain
Copyright
© Vela et al; licensee BioMed Central Ltd. 2008
This article is published under license to BioMed Central Ltd. This is an Open Access article distributed under the terms of the Creative Commons Attribution License (http://creativecommons.org/licenses/by/2.0), which permits unrestricted use, distribution, and reproduction in any medium, provided the original work is properly cited.