Replacing the wild type loxP site in BACs from the public domain with lox66 using a lox66 transposon
BMC Research Notes
2010
3:38
Received: 7 October 2009
Accepted: 19 February 2010
Published: 19 February 2010
Abstract
Background
Chromatin adjoining the site of integration of a transgene affects expression and renders comparisons of closely related transgenes, such as those derived from a BAC deletion series retrofitted with enhancer-traps, unreliable. Gene targeting to a pre-determined site on the chromosome is likely to alleviate the problem.
Findings
A general procedure to replace the loxP site located at one end of genomic DNA inserts in BACs with lox66 is described. Truncating insert DNA from the loxP end with a Tn10 transposon carrying a lox66 site simultaneously substitutes the loxP with a lox66 sequence. The replacement occurs with high stringency, and the procedure should be applicable to all BACs in the public domain. Cre recombination of loxP with lox66 or lox71 was found to be as efficient as another loxP site during phage P1 transduction of small plasmids containing those sites. However the end-deletion of insert DNA in BACs using a lox66 transposon occurred at no more than 20% the efficiency observed with a loxP transposon. Differences in the ability of Cre protein available at different stages of the P1 life cycle to recombine identical versus non-identical lox-sites is likely responsible for this discrepancy. A possible mechanism to explain these findings is discussed.
Conclusions
The loxP/lox66 replacement procedure should allow targeting BACs to a pre-positioned lox71 site in zebrafish chromosomes; a system where homologous recombination-mediated "knock-in" technology is unavailable.
Keywords
loxP SiteZebrafish ChromosomeCross RecombinationFresh BacteriumWild Type loxP
Findings
Research Hypothesis
Expression of a transgene integrated into the germline of an animal is influenced by i) variation in copy number of transgene and ii) the effect of chromatin adjoining the site of integration [1]. Thus expression comparisons of closely related transgenes, such as those derived from a BAC deletion series retrofitted with enhancer-traps [2], become unreliable. Targeting transgenes to the same site on the chromosome alleviates the problem, and both "knock-in" technology using homologous recombination [1] and insertion of cDNA plasmids into a loxP site have been used in previous studies [3].
Because the lox-Cre recombination reaction/equilibrium favors excision, mutant sites such as lox66 and lox71 have been constructed to stably incorporate small plasmid DNA into chromosomes of plants and mouse ES cells [4, 5]. BACs have not been used similarly, presumably because altering the loxP or lox511 sites flanking insert DNA in BACs is challenging. We describe a general procedure that readily overcomes this particular hurdle of converting a loxP to a lox66 in BACs.
Materials and methods
Two BAC clones from the zebrafish genomic library, CH211-192O20, & CH211-43O16 designated here as BACs C & D respectively, were purchased from BAC/PAC resources, Oakland, California. These zebrafish BACs are in the pTARBAC2.1 vector. BACs C and D are of size 138.6 and 144.3 kb, respectively, as deduced from the location of their ends on the zebrafish chromosome 9 BAC contig of this region. They appear closer to 130 kb on FIGE. End-deletions of insert DNA in BACs were generated with lox66 transposons using procedures identical to those described earlier for loxP transposons [6, 7]. Briefly, the lox66 transposon plasmid was introduced into the bacterial host containing the BAC using the calcium chloride transformation procedure. Transposition into BAC DNA was initiated by inducing the cells with IPTG. Cre recombinase was provided by infecting these cells with phage P1. The resulting end-deleted BACs were packaged as linear DNA in P1 heads, and used to infect fresh bacteria to regenerate the lox66 substituted BAC plasmids. Procedures for DNA isolation/purification from BAC deletions, FIGE analysis, end-sequencing of BAC deletions with transposon-based primers have been described earlier [8, 9]. Identical procedures were also followed with the BAC deletions generated with lox66 enhancer-trap transposons. Primers used for sequencing the newly created end of BACs are:
Seq 1......5' d GACAAGATGTGTATCCACCTTAAC 3'
Seq 4-compliment......5' d CCGTTTTTATCAGGCTCTGGGAG 3'
LF8-compliment......5' d CTTGATTCCATTCATCTGTAGTG 3'
Discussion
We describe a general approach to replace the wild type loxP sequence located at one end of genomic DNA inserts in all public domain BACs with a lox66 site. The procedure uses a lox66 transposon to trim insert DNA from the loxP end and simultaneously replace the original loxP with a lox66 site. Replacement of loxP with lox66 occurs with high fidelity. Although the genomic DNA insert is truncated in the process, the size of insert DNA remaining in the lox66 BAC can be as large as 105 kb, the limit encountered by the ~110 kb packaging capacity of the P1 phage head. The resulting 105 kb insert DNA size, the remainder being BAC vector, is unlikely to be a drawback in most applications; because a majority of vertebrate genes can be housed in their entirety within this size limit: more than half of non-coding gene-regulatory sequences in vertebrates are located within this span of DNA adjoining start sites of genes [21]. Therefore lox66 BACs housing entire genes in their chromosomal contexts can now be stably integrated to pre-positioned lox71 sites in chromosomes using Cre recombination as described earlier for small plasmids [4, 5].
The fidelity of substituting lox66 for loxP in BACs is high: No truncations occurred from the lox511 side of genomic DNA insert in our experiments using the lox66 transposons. This should have been easy to detect because a different sized vector DNA band would have been generated upon Not I digestion of the DNA (see Figure 3B). The high fidelity of recombination observed in the loxP site substitutions is consistent with the transduction experiments described here (compare rows 1, 2 and 5, 6 with row 3 in Table 1) and with earlier studies using P1 phage-generated Cre protein [7, 16].
The results shown in Figures 3 and 4 indicate that additional changes, such as incorporating enhancer-traps [2] or other reporter and/or selectable marker genes can readily be made in the lox66-BACs during the substitution process. The methodology should facilitate targeting functionalized lox66-BACs to a pre-positioned lox71 site on the chromosome to generate transgenic animals. The approach should be of special interest in systems, such as zebrafish, where "knock-in" technology using homologous recombination are un-available due to genome duplication in an ancestral teleost [22]. Targeted integration using this strategy has been reported recently in zebrafish; but only to integrate small lox66 plasmids to lox71 sites on chromosomes [23].
Targeting loxP plasmids to vertebrate genomes can be affected both by the DNA topoisomerase activity of Cre protein and cryptic lox sites in chromosomes [24–27]. The topoisomerase activity of Cre is unavoidable, and might explain the low efficiency of integrating small lox66 plasmids to chromosomal lox71 sites in zebrafish [23]. Cryptic lox sites are also likely to reduce efficiency, although integration at those sites is expected to be less efficient than at authentic lox71 sites. Despite these potential complications, targeting of small lox66 plasmids to a lox71 site has been successful in zebrafish [23], plants [4] and mouse ES cells [5, 3], and therefore lox66 BACs should be targetable in a similar manner.
We believe using a lox66 transposon to substitute the loxP site in BACs should be easier than using homologous recombination in E.coli because the same lox66 transposon can be used with all BACs in the public domain. Recombineering approaches on the other hand require building at least one arm of homology for each BAC [28–30]. Additional alterations to the BAC are easy to incorporate with lox66 transposons, but difficult otherwise.
The overall efficiency of making end-deletions with the
lox66
transposons is 5-10 fold lower compared to
loxP
transposons, despite there being no difference between the two in phage P1 transduction of plasmids containing either site. This was puzzling. The BAC end-deletion procedure can be broken down into three discrete Cre-mediated recombination steps (shown schematically in Figure
5
), namely 1) creating the
lox66
-
loxP
deletion in BAC after the
lox66
site transposition, 2) generating the co-integrate between deleted
lox66-
BAC and P1 phage, and 3) circularizing the linear BAC DNA packaged in the phage head upon re-entering fresh bacteria (see references 16, 20 for details). Each of these steps requires Cre recombination between
loxP
and
lox66
sites. While steps 2) and 3) are common to both P1 transductions and BAC end-deletion procedures, step 1) is unique to the latter. Note also that steps 1) and 3) most likely occur during the early stages of the P1 infection, with lower levels of Cre protein around, while step 2) occurs late in infection with probably higher levels of Cre protein in the cell. It is tempting to speculate therefore that step 1) is likely to be more stringent than step 2), and might discriminate between
loxP
and
lox66
sites so as to slightly disfavor the
loxP-lox66
compared to a
loxP-loxP
recombination. Thus fewer truncations are likely to occur with
lox66
inserted into the genomic DNA; resulting in fewer BAC inserts capable of packaging both the
lox66
and
loxP
sites within the same phage head that ultimately allows them to be circularized in the next round of infection [
16
,
20
]. Such rationalization would also require that a similar discrimination in step 3) is not enough to lower survival of the truncated linear BAC DNA flanked by
loxP-lox66
within phage P1 heads through circularization. A delay in degradation of the linear DNA upon entry into the cell might be sufficient to overcome this discrimination. Also other recombinases in the cell might help out in the process of circularization, as noted earlier [
16
]. Loss of stringency of
lox
-Cre recombinations with higher levels of Cre protein, proposed for step 2), is most likely responsible for the wide range of promiscuity observed in previous studies where Cre was expressed constitutively in cells or used
in vitro
[
11
–
15
,
17
].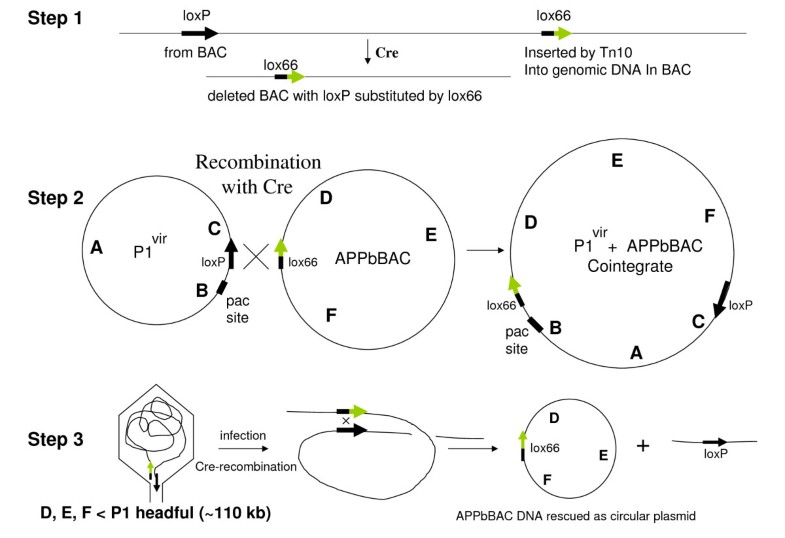 Several interesting conclusions can be drawn from considering the asymmetry of the lox-Cre recombination reactions involved in the substitution process. There is directionality to the loxP site arising from the 8-base asymmetric spacer. Cre-recombination of identical spacer lox sites occur readily, mutant or otherwise, while those between non-identical spacers is severely restricted [16, 7]. Thus substitution of the lox511 site at the other end of insert DNA in BACs with lox66 is likely feasible when it also carries the same spacer mutation as lox511. The directionality of the lox-Cre recombination should also prevent substitution of lox71 for loxP in BACs: because the arm mutation in lox71 is on the rear end of the arrow shown in Figure 1 (top panel), the Cre recombination after transposition of a lox71 site into genomic DNA would result in lox71 ending up in the deleted portion of the genomic insert (see bottom panel of Figure 1). However, transduction of plasmids carrying lox71 by phage P1 is not affected by this asymmetry: the lox71 site should end up in segment F-C of cointegrate rather than segment B-D as in the case of lox66 (refer to Step 2 of Figure 5). The linear DNA in the P1 phage head should then be flanked by loxP at left and lox71 on right, respectively (Step 3 of Figure 5). Upon Cre-recombination this DNA should be able to circularize with lox71 in the BAC and loxP in the small linear piece of DNA from the termini (step 3 Figure 5).
The lower efficiency of end-deletions with lox66 compared to loxP transposons should not pose a hurdle because several thousand deletion clones are generated in each deletion/substitution experiment, and one can screen a sufficient number of clones to obtain the desired number of lox66 substituted BAC deletions. Using this end-deletion/substitution procedure, BACs as large as 110 kb with loxP replaced by lox66 can be generated with minimal effort using the same lox66 transposon for all BACs in the public domain.
Abbreviations
BAC:

bacterial artificial chromosome
FIGE:

Field inversion gel electrophoresis
APPb:

Amyloid Precursor Protein.
Declarations
Acknowledgements
We thank Dr. Faye Calhoun, Cheryl Harrington, Rosalind Grays, Connie Key and Kara Battle, for support and encouragement. This work was supported in part by MBRS-SCORE grant # SO 608049 from the NIGMS, and EXPORT grant #1P20 MD00175-01 from the NIH and funds from the North Carolina Biotechnology Center.
Authors' Affiliations
(1)
Department of Chemistry, North Carolina Central University, Durham, USA
(2)
Julius L Chambers Biomedical/Biotechnology Research Institute, North Carolina Central University, Durham, USA
(3)
Department of Biology, North Carolina Central University, Durham, USA
Copyright
© Chatterjee et al; licensee BioMed Central Ltd. 2010
This article is published under license to BioMed Central Ltd. This is an Open Access article distributed under the terms of the Creative Commons Attribution License (http://creativecommons.org/licenses/by/2.0), which permits unrestricted use, distribution, and reproduction in any medium, provided the original work is properly cited.