Technical Note

Open Access
Rapid screening of innate immune gene expression in zebrafish using reverse transcription - multiplex ligation-dependent probe amplification
BMC Research Notes
2011
4:196
Received: 15 March 2011
Accepted: 15 June 2011
Published: 15 June 2011
Abstract
Background
With the zebrafish increasingly being used in immunology and infectious disease research, there is a need for efficient molecular tools to evaluate immune gene expression in this model species. RT-MLPA (reverse transcription - multiplex ligation-dependent probe amplification) provides a sensitive and reproducible method, in which fluorescently labelled amplification products of unique lengths are produced for a defined set of target transcripts. The method employs oligonucleotide probes that anneal to adjacent sites on a target sequence and are then joined by a heat-stable ligase. Subsequently, multiplex PCR with universal primers gives rise to amplicons that can be analyzed with standard sequencing equipment and relative quantification software. Allowing the simultaneous quantification of around 40 selected markers in a one-tube assay, RT-MLPA is highly useful for high-throughput screening applications.
Findings
We employed a dual-colour RT-MLPA probe design for chemical synthesis of probe pairs for 34 genes involved in Toll-like receptor signalling, transcriptional activation of the immune response, cytokine and chemokine production, and antimicrobial defence. In addition, six probe pairs were included for reference genes unaffected by infections in zebrafish. First, we established assay conditions for adult zebrafish infected with different strains of Mycobacterium marinum causing acute and chronic disease. Addition of competitor oligonucleotides was required to achieve peak heights in a similar range for genes with different expression levels. For subsequent analysis of embryonic samples it was necessary to adjust the amounts of competitor oligonucleotides, as the expression levels of several genes differed to a large extent between adult and embryonic tissues. Assay conditions established for one-day-old Salmonella typhimurium-infected embryos could be transferred without further adjustment to five-day-old M. marinum-infected larvae. RT-MLPA results were compared with results of previous transcriptome analyses and with real-time PCR data, demonstrating a good correlation between all expression analysis methods.
Conclusions
The RT-MLPA assay developed in this study provides a rapid, cheap, and robust analysis tool for simultaneous quantification of a set of 34 innate immune response genes. With adjustment of conditions, the assay is suitable for infection studies in both adult and embryonic zebrafish. Application of RT-MLPA will facilitate high-throughput screening of immune responses in the zebrafish model.
Keywords
Zebrafish EmbryoProbe PairAdult ZebrafishImmune Response GeneMycobacterium Marinum
Background
The use of zebrafish models in immunological and infectious disease research has rapidly expanded over the recent years [1, 2]. Important advantages of zebrafish include its amenability to large-scale forward and reverse genetic screening and small molecule library screening [3, 4]. The recent development of a robotic system for bacterial infection of zebrafish embryos will facilitate antimicrobial drug screening in this model at high-throughput level [5]. The availability of robust molecular tools for the rapid evaluation of immune responses is a highly desired addition to zebrafish-based screening approaches.
Multiplex Ligation-dependent Probe Amplification (MLPA) is a high resolution method to establish the copy number of around 40 nucleic acid sequences in a one-tube reaction [6, 7]. The technique was initially developed to determine copy number variation in genomic DNA, but has also been adapted for quantification of mRNA transcript levels [8]. Since its introduction in 2002, MLPA has rapidly become accepted in genetic diagnostic laboratories, where it is used for the detection of disease-associated polymorphisms, deletions, duplications and rearrangements in genomic DNA [7]. Reasons for the rapid adoption of MLPA in diagnostics are the relative simplicity, low costs (ca. 10 euro per reaction), high-throughput capacity, sensitivity, accuracy and robustness of the technique. The use of reverse-transcriptase-MLPA (RT-MLPA) for mRNA expression profiling is less common but has proven useful for example in human immunology and cancer research [9, 10]. In contrast to approximately 250 MLPA kits available for DNA analysis, only three RT-MLPA kits (including a human inflammation probe set, a human apoptosis probe set, and a mouse inflammation probe set) are commercially available (MRC Holland, http://www.mlpa.com). While the application of existing RT-MLPA tests is fast and simple, the development of new tests for detection of other sets of mRNAs is a significant investment.
Setting up of an RT-MLPA test for a new set of mRNAs requires first the design of oligonucleotide probes. Detection of each different target sequence requires two oligonucleotide probes, designed such that they anneal to immediately adjacent sites on a target cDNA sequence produced by reverse transcription of mRNA (Figure
1A
). One of the two oligonucleotide probes contains a stuffer sequence of variable length. Following hybridization to the target sequence, the probe pair is ligated by a heat-stable ligase and amplified using fluorescently labelled universal primers. The fact that only one primer pair is used, is the prerequisite for simultaneous reproducible amplification of different sequences and makes relative quantification possible [
6
,
8
]. Oligonucleotide probes that are not ligated will not be amplified. Due to use of different stuffer sequences, amplification of each ligated oligonucleotide probe pair gives rise to an amplification product of unique length. The amplicons are separated using the standard electrophoresis equipment that is also used for sequence analysis and peaks are quantified using relative quantification software.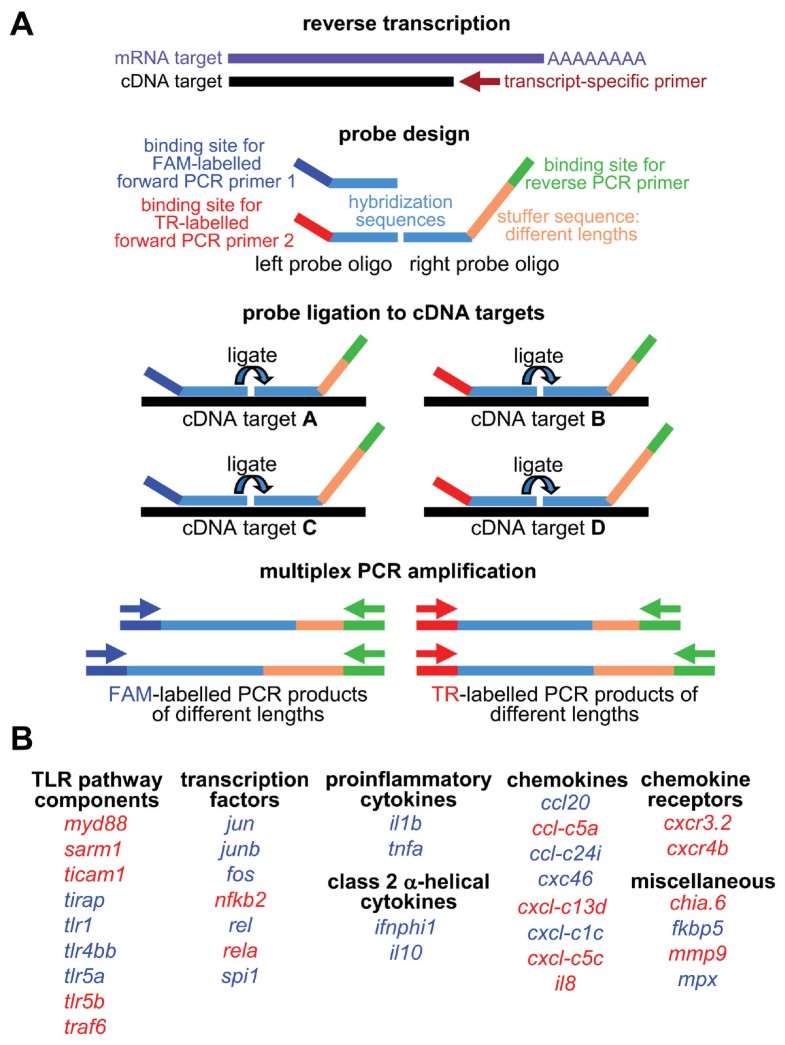 Probes used in MLPA usually range between 80 to 400 nucleotides in length. Accurate chemical synthesis of MLPA probes is possible up to a length of approximately 180 nucleotides, while M13 cloning (using SALSA vectors, MRC Holland, http://www.mlpa.com) is used to produce probes up to 400 nucleotides in length [6, 7, 11]. To bypass the laborious M13 cloning procedures, a dual-colour approach has been applied [12]. In this approach, two universal primer pairs are used that give similar amplification efficiencies but are labelled with different fluorophores, thereby increasing the maximum possible number of synthetic probe pairs in a single MLPA assay.
Following probe design, a second time-consuming step in development of an RT-MLPA assay is optimization of the assay conditions by addition of competitor oligonucleotides (probes without universal primer sequences). Competitor oligonucleotides need to be used to titrate down the signals of genes with higher expression levels than others, such that all amplicons will produce peak heights in a similar range [8]. Titration conditions may need to be adjusted separately for different sample types, for example for different tissues or for samples from experimental manipulations that lead to large differences in gene expression. Therefore, RT-MLPA is most useful for high-throughput applications that involve repetitive analysis of a targeted transcript set in similar biological samples.
Here we describe the development of a first RT-MLPA assay for application in zebrafish models. The probe set targets 34 genes with functions in the innate immune system and contains 6 probe pairs for reference genes that are not affected under infection conditions. We show that a dual-colour approach previously developed for MLPA [12] can also be adopted for RT-MLPA, allowing us to combine 41 synthetic probe pairs in a single assay. We tested the method using samples from Mycobacterium marinum and Salmonella typhimurium infection experiments and established assay conditions for analysis of both adult and embryonic tissues. RT-MLPA results correlated well with results from previous transcriptomics studies and with results from real-time PCR analysis.
Conclusions
In this work, we have developed an RT-MLPA analysis panel for relative quantification of innate immune gene expression in zebrafish. The method allows the rapid semi-quantitative expression screening of 34 genes involved in TLR signalling, transcriptional activation of the immune response, cytokine and chemokine production, and antimicrobial defence. Expression levels of these genes are determined relative to the expression of three reference genes in a single tube assay. The validity of the assay was demonstrated by comparison with transcriptomic data sets and real-time PCR analysis. Differential expression levels of the immune response genes detected with RT-MLPA covered a range between 2-fold and over 70-fold, similar to the results of microarray and real-time PCR analysis.
In development of the RT-MLPA assay we chose to employ a dual-colour labelling system previously used in DNA diagnostic MLPA applications [12]. In this system, two probe sets, each in the size range of approximately 90 to 180 oligonucleotides, are amplified using FAM-labelling and TR-labelling, respectively. In this size range it is possible to compose the RT-MLPA assay exclusively from synthetic probes, thus avoiding the laborious M13 cloning procedures used previously to extend the size range of probes for (RT-)MLPA analysis [6–8]. For future development it may be possible to further increase the number of testable mRNA targets by 50% with the use of a third label, which has also been reported in DNA diagnostic MLPA [20]. This would also facilitate further increasing the number of different reference genes in the assay.
The RT-MLPA assay was successfully applied to the analysis of RNA samples from infection experiments in adult and embryonic zebrafish. However, analysis of adult and embryonic material required different assay conditions. In RT-MLPA analysis it is necessary to compensate for large differences in expression levels of genes by the addition of competitor oligonucleotides to the probe mix [8]. We found that the basal and infection-induced expression levels of several genes differed to such an extent between adult and embryonic tissues that titration of the probe mix with competitor oligonucleotides had to be adjusted for these different developmental stages. Fortunately, assay conditions established for one-day-old S.typhimurium-infected embryos could be transferred without further adjustment to five-day-old M. marinum-infected larvae. Thus, by employing two types of titration conditions, we have been able to establish an RT-MLPA assay for infection studies in adult zebrafish and a second RT-MLPA assay that is applicable to infection studies in both embryos and larvae and with different pathogens.
Due to the fact that RT-MLPA is a relative quantification method, the composition of the probe mix cannot be easily altered without adjustment of the assay conditions. The replacement of one probe by another, or the addition of a probe for a new target transcript, will affect the peak heights of other transcripts. Therefore, especially if the new probe results in a large peak, this may require re-titrating the probe mix, as was also necessary when the sample-type was changed from adult to embryonic zebrafish. Since re-titration of the assay is a time-consuming step, RT-MLPA analysis is most suitable for recurrent analysis of the same set of target mRNAs under comparable experimental conditions. For such medium or high throughput screening applications, the innate immune response RT-MLPA assay developed in this study provides a rapid, cheap, and robust analysis tool.
Declarations
Acknowledgements and Funding
We thank Monika Hidding (BaseClear B.V.) for technical assistance, Anna Zakrzewska (Leiden University), Oliver W. Stockhammer (Leiden University), Zakia Kanwal (Leiden University), and Ralph Carvalho (ZF-Screens B.V., Leiden, The Netherlands) for RNA samples, and the staff of MRC Holland B.V. (Amsterdam, The Netherlands) for valuable advice on synthetic RT-MLPA probe design. This work was supported by the European Commission Sixth Framework Project ZF-TOOLS (LSHG-CT-2006-037220).
Authors' Affiliations
(1)
BaseClear B.V, Leiden, The Netherlands
(2)
Institute of Biology, Leiden University, Leiden, The Netherlands
Copyright
© Meijer et al; licensee BioMed Central Ltd. 2011
This article is published under license to BioMed Central Ltd. This is an open access article distributed under the terms of the Creative Commons Attribution License (http://creativecommons.org/licenses/by/2.0), which permits unrestricted use, distribution, and reproduction in any medium, provided the original work is properly cited.