Technical Note

Open Access
Laser capture microdissection (LCM) and whole genome amplification (WGA) of DNA from normal breast tissue --- optimization for genome wide array analyses
BMC Research Notes
2011
4:69
Received: 9 September 2010
Accepted: 18 March 2011
Published: 18 March 2011
Abstract
Background
Laser capture microdissection (LCM) can be applied to tissues where cells of interest are distinguishable from surrounding cell populations. Here, we have optimized LCM for fresh frozen normal breast tissue where large amounts of fat can cause problems during microdissection. Since the amount of DNA needed for genome wide analyses, such as single nucleotide polymorphism (SNP) arrays, is often greater than what can be obtained from the dissected tissue, we have compared three different whole genome amplification (WGA) kits for amplification of DNA from LCM material. In addition, the genome wide profiling methods commonly used today require extremely high DNA quality compared to PCR based techniques and DNA quality is thus critical for successful downstream analyses.
Findings
We found that by using FrameSlides without glass backing for LCM and treating the slides with acetone after staining, the problems caused by excessive fat could be significantly decreased. The amount of DNA obtained after extraction from LCM tissue was not sufficient for direct SNP array analysis in our material. However, the two WGA kits based on Phi29 polymerase technology (Repli-g® (Qiagen) and GenomiPhi (GE Healthcare)) gave relatively long amplification products, and amplified DNA from Repli-g® gave call rates in the subsequent SNP analysis close to those from non-amplified DNA. Furthermore, the quality of the input DNA for WGA was found to be essential for successful SNP array results and initial DNA fragmentation problems could be reduced by switching from a regular halogen lamp to a VIS-LED lamp during LCM.
Conclusions
LCM must be optimized to work satisfactorily in difficult tissues. We describe a work flow for fresh frozen normal breast tissue where fat is inclined to cause problems if sample treatment is not adapted to this tissue. We also show that the Phi29-based Repli-g® WGA kit (Qiagen) is a feasible approach to amplify DNA of high quality prior to genome wide analyses such as SNP profiling.
Keywords
Normal Breast TissueLaser Capture MicrodissectionSingle Nucleotide Polymorphism ArrayWhole Genome AmplificationMultiple Displacement Amplification
Discussion
We have developed a protocol for LCM of fresh frozen normal breast tissue, which is a demanding tissue to work with and we believe the method to be valid for other lipid-rich tissues as well. A switch to FrameSlides and an added acetone wash were necessary for LCM to work adequately. When using FrameSlides, however, it was obvious that some tissue was dropped and could be found on the objective below the stage. This loss, together with other pieces that were not successfully catapulted into the cap, was estimated to approximately 10% and is in line with observations made by other groups [14]. Interestingly, other groups working with breast tissue have not described problems with LCM. However, much of the previous work has been performed on paraffin embedded tissue [15, 16] where all lipids have been removed during the embedding process. For frozen sections, most work has been performed on breast tumor tissue [2, 17], which contains considerably less adipose cells than normal breast tissue. To our knowledge, in the few studies where normal fresh frozen breast tissue has been studied, LCM systems by Arcturus Engineering have been used [18–22]. Possibly, these systems are less sensitive to contaminating lipids.
We performed a thorough quality control of DNA obtained from LCM tissue after recognizing that a lack of long fragments in the input to WGA did not result in unsuccessful amplification but was only observable as low SNP array call rates. As displayed in the gel image in Figure 2a, the majority of the LCM DNA fragments were shorter than 4 kb. We found that the original halogen lamp in the LCM microscope was causing DNA fragmentation during microdissection, probably due to heat production. After changing to a VIS-LED lamp, clearly higher DNA quality was obtained (Figure 2b). We suspect that poor DNA quality is often a problem in the analysis of DNA obtained from LCM, but that this is rarely discovered since the small amount of DNA limits the options for quality control of long fragment DNA. Most likely, the DNA quality after LCM is sufficient for most PCR-based assays and possibly for other less sensitive analyses. However, we found that for SNP array analyses the quality of the input DNA is crucial for a successful outcome after WGA.
The amplification products after WGA clearly differed in DNA yield and quality (Table
1
and Figure
3
). The BioScore™ WGA kit is developed for formalin-fixed, paraffin-embedded tissue and as a consequence, the amplification products are noticeably shorter than from the other two kits (Figure
3
). Since our material is fresh-frozen, we had the possibility to use one of the two MDA-based kits that give clearly longer amplification products. According to the literature, Qiagen's Repli-g
®
kit is often the method of choice for whole genome amplification before SNP array analyses [
10
,
11
,
23
] whereas the GenomiPhi kit (GE Healthcare) is often chosen when working with microdissected tissue [
24
–
27
]. We tested both the GenomiPhi and Repli-g
®
methods and found that the Repli-g
®
kit gave DNA fragments of approximately the same size as genomic DNA (Figure
3
). The GenomiPhi kit also gave products longer than approximately 1 kb and up to more than 10 kb. We did not find a correlation between the amount of starting material in the WGA reactions and the output after amplification. However, the quantity of starting material has previously been shown to affect the level of amplification bias in the product. Arriola
et al.
[
28
] showed that an input of 0.5-10 ng resulted in a higher amplification bias than when larger amounts of starting DNA were used. It is therefore suggested that the same amount of starting material should be used in both test and reference samples since copy number change biases were found to be non-random [
9
,
28
]. Our results also show a difference in call rates between amplified and non-amplified products, thus indicating that the reference and test samples should indeed be treated equally in this respect. However, call rates for MDA products have generally been found to be high and sometimes even comparable with call rates for genomic DNA [
9
,
10
]. We found this to be true in Repli-g
®
amplified DNA (Table
2
) and thus suggest that whole genome amplification with this kit is best suited for SNP array analyses. Nevertheless, amplified DNA tends to yield noisier data and adequate normalization and filtering always need to be performed by the user. The flow chart in Figure
4
summarizes the different steps suggested for LCM and WGA before SNP array analysis of DNA from normal breast tissue.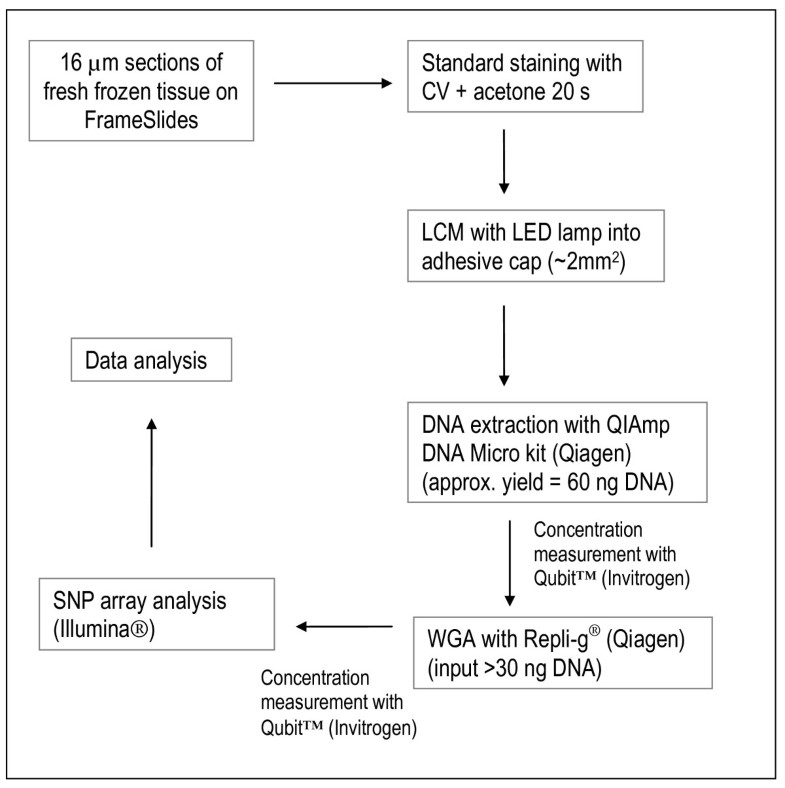 Declarations
Acknowledgements
The authors wish to thank Srinivas Veerla for help with data analysis. This work was supported by grants from the Swedish Cancer Society, the Swedish Research Council, the Crafoord Foundation, the King Gustav V Jubilee Fund, the Gunnar Nilsson Cancer Foundation, the Berta Kamprad Cancer Foundation, the University Hospital of Lund Research Foundation and Governmental Funding of Clinical Research within National Health Service.
Authors' Affiliations
(1)
Department of Oncology, Clinical Sciences, Lund, Lund University, Lund, Sweden
(2)
Department of Laboratory Medicine, Center for Molecular Pathology, Lund University, University Hospital MAS, Malmö, Sweden
Copyright
© Hedenfalk et al; licensee BioMed Central Ltd. 2011
This article is published under license to BioMed Central Ltd. This is an open access article distributed under the terms of the Creative Commons Attribution License (http://creativecommons.org/licenses/by/2.0), which permits unrestricted use, distribution, and reproduction in any medium, provided the original work is properly cited.