Research article

Open Access
New players in the same old game: a system level in silico study to predict type III secretion system and effector proteins in bacterial genomes reveals common themes in T3SS mediated pathogenesis
BMC Research Notes
2013
6:297
Received: 13 December 2012
Accepted: 10 July 2013
Published: 26 July 2013
Abstract
Background
Type III secretion system (T3SS) plays an important role in virulence or symbiosis of many pathogenic or symbiotic bacteria [CHM 2:291–294, 2007; Physiology (Bethesda) 20:326–339, 2005]. T3SS acts like a tunnel between a bacterium and its host through which the bacterium injects 'effector' proteins into the latter [Nature 444:567–573, 2006; COSB 18:258–266, 2008]. The effectors spatially and temporally modify the host signalling pathways [FEMS Microbiol Rev 35:1100–1125, 2011; Cell Host Microbe5:571–579, 2009]. In spite its crucial role in host-pathogen interaction, the study of T3SS and the associated effectors has been limited to a few bacteria [Cell Microbiol 13:1858–1869, 2011; Nat Rev Microbiol 6:11–16, 2008; Mol Microbiol 80:1420–1438, 2011]. Before one set out to perform systematic experimental studies on an unknown set of bacteria it would be beneficial to identify the potential candidates by developing an in silico screening algorithm. A system level study would also be advantageous over traditional laboratory methods to extract an overriding theme for host-pathogen interaction, if any, from the vast resources of data generated by sequencing multiple bacterial genomes.
Results
We have developed an in silico protocol in which the most conserved set of T3SS proteins was used as the query against the entire bacterial database with increasingly stringent search parameters. It enabled us to identify several uncharacterized T3SS positive bacteria. We adopted a similar strategy to predict the presence of the already known effectors in the newly identified T3SS positive bacteria. The huge resources of biochemical data [FEMS Microbiol Rev 35:1100–1125, 2011; Cell Host Microbe 5:571–579, 2009; BMC Bioinformatics 7(11):S4, 2010] on the T3SS effectors enabled us to search for the common theme in T3SS mediated pathogenesis. We identified few cellular signalling networks in the host, which are manipulated by most of the T3SS containing pathogens. We went on to look for correlation, if any, between the biological quirks of a particular class of bacteria with the effectors they harbour. We could pin point few effectors, which were enriched in certain classes of bacteria.
Conclusion
The current study would open up new avenues to explore many uncharacterized T3SS positive bacteria. The experimental validation of the predictions from this study will unravel a generalized mechanism for T3SS positive bacterial infection into host cell.
Keywords
T3SSEffectorIntracellular pathogenCytoskeletal structure
Background
Many symbiotic and pathogenic Gram -ve bacteria have evolved with sophisticated secretion machinery. These secretion systems differ in their architectures and types of the bio- molecules they secrete. There are at least 6 specialized secretion systems - Type I, Type II, Type III, Type IV, Type V and Type VI found in Gram-ve bacteria [1]. Type III secretion system is known to be specialized in injecting proteins into host cells [2, 3]. T3SS plays a central role in the pathogenesis or survival in the host [4–6].
T3SS consists of a hollow proteinaceous channel that spans both inner and outer membrane of bacteria and thus facilitates the transfer of bacterial proteins to the host cell. The current knowledge on the structure of this machinery have been derived from the reconstruction-based approach in which the X-ray crystal structures of the individual proteins were fitted into a low resolution electron density mask of the entire injectisome complex [3, 7, 8]. The T3SS machinery is a modular system, which has a basal body spanning inner membrane, peri-membrane space and the outer membrane of the bacterium. The needle along with its tip is inserted into the basal body. Approximately 25 different proteins are required to build the needle complex [9, 10]. The comparison of injectisomes from many well-studied T3SS positive bacteria revealed that the basal structure is made of ten highly conserved proteins.
The injectisomes allow transport of the proteins, known as effectors from the pathogens to host cells. The latter group of proteins have diverse biochemical activities and play pivotal role in pathogen mediated infection in plants and animals [5, 11]. In many occasions, these proteins containing eukaryotic protein motifs mimic the functions of its host counterpart and thus modulate different signalling pathways [12]. So far, the studies on T3SS have been limited to very few bacteria [13–15]. Although numerous independent studies have been performed in individual pathogens, they mainly focussed on the physiological role of a subset of effectors in a given pair of pathogen and its host. The rapid increase in the number of available sequences of bacterial genomes offers opportunity to identify new potential T3SS positive bacteria. Additionally, it also provides a solid framework for carrying out system level study to extract an overriding theme for pathogenesis.
Here, we made use of the vast resources of data generated by sequencing multiple bacterial genomes to identify un-annotated T3SS positive bacteria. We then asked whether there is any relation between the natural habitat of a bacterium and its effectors. To address this we divided the entire pool of T3SS positive bacteria into different classes according to their natural habitats and set out to look for enrichment of a set of effectors in a given class. Our study identified several un-annotated T3SS positive bacteria. Interestingly, couple of them maintain very distant relations with the known classes of T3SS positive bacteria and thus likely to constitute a new family [9]. We found both habitat dependent and independent enrichment of the effectors. Certain groups of effectors were found to be present in most of the T3SS positive bacteria irrespective of the habitat. These effectors have been shown to modulate specific signalling pathways in the host. This led us to hypothesize that T3SS positive bacteria modulate certain conserved signalling pathways in the host irrespective of their habitat. Interestingly, we also observed habitat dependent enrichment of certain effectors.
Methods
Bacterial genome data set
The curetted sequences of the bacterial genomes or plasmids are available in NCBI database (http://ftp://ftp.ncbi.nih.gov/genomes/Bacteria/). This data set as on 14th of April, 2012 contained nearly 1430 bacterial genome sequences.
Experimentation tools
We have used BLAST (2.2.26 release) for searching homologues of T3SS components against the bacteria genomes [
16
]. We used 'tblastn' algorithm, which is a tool that compares a protein query sequence against a nucleotide sequence database, dynamically translated in all six reading frames (both strands). The blast searches were carried out at multiple 'e' values. Here 'e' value is a parameter that describes the number of hits one can expect to see by chance when searching database of a particular size. We carried out multiple sequence alignment (MSA) using clustalW [
17
] through GenomeNet bioinfomatics online tools. (
http://www.genome.jp/tools/clustalw/
). The same tool was then used to build a phylogram from the multiple sequence alignment (unweighted Pair Group Method with Arithmetic mean). The methodology used to predict T3SS positive genomes and their effectors are discussed in detail in the following section and shown as a flow chart in Figure
1
.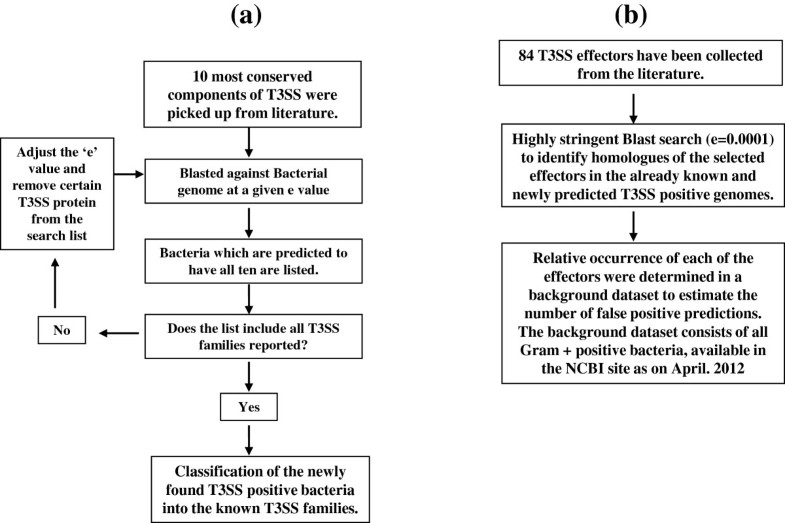 Conclusion
The current study predicted the presence of T3SS machinery and associated effector proteins in several uncharacterized bacterial genomes. It also indicates that the T3SS effectors from diverse types of bacteria exploit few common signaling pathways in the host. In many occasions, the bacterial effectors differ substantially in their sequences and structures from their functional homologues in the host which makes them attractive drug targets in the pharmaceutical industry. Moreover, we detected enrichment of certain effectors in specific biological niche although the underlying molecular principles are yet to be unraveled. The current study thus created a plenty of room to explore into many uncharacterized T3SS positive bacteria. To the best of our knowledge, it is the first ever attempt to unravel an underlying theme for T3SS mediated pathogenesis from the huge resource of data. Careful wet lab validation of the current predictions should be compulsory before carrying out an experimental system level investigation on T3SS mediated pathogenesis.
Abbreviations
T3SS:

Type III secretion system.
Declarations
Acknowledgement
This work was financially supported by the CSIR funded research proposal, No 37[1469]/11/EMR-II and Institute of Science Education and Research, Bhopal. We also thank Dr. Thierry Galvez, MPI-CBG, Dresden, Germany for providing us valuable suggestions for improving the data presentation.
Authors' Affiliations
(1)
National Institute of Immunology, Aruna Asaf Ali Marg, New Delhi, India
(2)
Indian Institutes of Science Education and Research, Bhopal, India
(3)
UT Southwestern Medical Center, Department of Molecular Biology, Dallas, USA
Copyright
© Sadarangani et al.; licensee BioMed Central Ltd. 2013
This article is published under license to BioMed Central Ltd. This is an Open Access article distributed under the terms of the Creative Commons Attribution License (http://creativecommons.org/licenses/by/2.0), which permits unrestricted use, distribution, and reproduction in any medium, provided the original work is properly cited.