Research article

Open Access
Prediction of CTL epitope, in silico modeling and functional analysis of cytolethal distending toxin (CDT) protein of Campylobacter jejuni
BMC Research Notes
2014
7:92
Received: 19 September 2013
Accepted: 11 February 2014
Published: 19 February 2014
Abstract
Background
Campylobacter jejuni is a potent bacterial pathogen culpable for diarrheal disease called campylobacteriosis. It is realized as a major health issue attributable to unavailability of appropriate vaccines and clinical treatment options. As other pathogens, C. jejuni entails host cellular components of an infected individual to disseminate this disease. These host–pathogen interfaces during C. jejuni infection are complex, vibrant and involved in the nicking of host cell environment, enzymes and pathways. Existing therapies are trusted only on a much smaller number of drugs, most of them are insufficient because of their severe host toxicity or drug-resistance phenomena. To find out remedial alternatives, the identification of new biotargets is highly anticipated. Understanding the molecules involved in pathogenesis has the potential to yield new and exciting strategies for therapeutic intervention. In this direction, advances in bioinformatics have opened up new possibilities for the rapid measurement of global changes during infection and this could be exploited to understand the molecular interactions involved in campylobacteriosis.
Methods
In this study, homology modeling, epitope prediction and identification of ligand binding sites has been explored. Further attempt to generate strapping 3D model of cytolethal distending toxin protein from C. jejuni have been described for the first time.
Results
CDT protein isolated from C. jejuni was analyzed using various bioinformatics and immuno-informatics tools including sequence and structure tools. A total of fifty five antigenic determinants were predicted and prediction results of CTL epitopes revealed that five MHC ligand are found in CDT. The three potential pocket binding site are found in the sequence that can be useful for drug designing.
Conclusions
This model, we hope, will be of help in designing and predicting novel CDT inhibitors and vaccine candidates.
Keywords
Cytolethal distending toxin (CDT)CTL epitope prediction Campylobacter jejuni Homology modeling
Background
Campylobacter jejuni is a prominent bacterial cause of enteric campylobacteriosis in the entire world [1]. Campylobacter is extensively distributed in poultry; nevertheless, cattle, pigs, sheep, and pet animals may also be a source of these microorganisms. This infection may be due to either eating of semi cooked meat or cross-contamination of ready-to-eat food at the time of preparation or storage. C. jejuni-linked enterocolitis is characteristically coupled with a local acute inflammatory response that involves intestinal tissue damage [2]. The genome of C. jejuni has been sequenced, yet only a few prospective virulence factors produced by C. jejuni are well considered [3].
Cytolethal distending toxins (CDT) are a class of heterotrimeric toxins produced by C. jejuni and also by closely related spp., such as C. fetus, C. coli [4, 5], Shigella [6] and Escherichia coli [7]. This toxin is rearward transported across the golgi complex and the endoplasmic reticulum, and afterward translocated into the nuclear compartment, where it applies the toxic activity [8]. The CDT comprises of three protein subunits namely CdtA, CdtB, and CdtC causes progressive cellular distention with ultimate cell death and have been proposed as virulence factors in the pathogenesis of C. jejuni [9]. These results suggest that the CDTs are involved invasion, survival and internalization into the host cell [10–13]. Although CDT from C. jejuni has been studied and characterized in laboratory [14, 15], but research on immune responses and pathogenesis of C. jejuni remains unexploited.
The progress in computational methods competent of predicting immune epitopes for B lymphocytes and T lymphocytes will facilitate the viewing of pathogens for immunogenic antigens. The epitope based vaccines encourage an immune response by presenting immunogenic peptides unite to major histocompatibility complex to TCR [16]. Considering the unavailability of 3D structure of CDT, it is challenging to select proper target that would lead to predict epitope and ligand binding sites in protein. Hence, this study aims to investigate the CDT of C. jejuni with special focus on the structural and functional aspects through bioinformatics approach. This study has important implications on the selection of CTL epitope, a critical step in the development of vaccines.
Results and discussion
The current study was originated to perform structure based sequence analysis of the CDT protein isolated from
C. jejuni
. The protein sequence was obtained from the NCBI protein database using accession number gi|205345645|gb|EDZ32284.1| cytolethal distending toxin [
Campylobacter jejuni
]. Primary structure analysis revealed that the CDT protein (268 aa) had a molecular weight of 29.94 kD and theoretical isoelectric point (PI) 6.81. An isoelectric point indicates a negatively charged protein. The instability index (II) was 18.60, thereby categorizes the protein as a stable. The aliphatic index appeared as 84.10 and the N-terminus of the sequence showed the presence of M (Met). The negative grand average of hydropathicity (GRAVY) of -0.061 denoted that the protein was hydrophillic. The amino acids, Asn (N), Phe (F), Ala (A), and Leu (L), were found in high praportion in the protein. The secondary structure disclosed the presence of 8.21% α-helices, 4.85% β-turns, 25.37% extended strand and 61.57% coils (Figure
1
). Transmembrane topology of the CDTCJ protein was checked using TMHMM online tool. The TMHMM server showed that residues 23-268 presented outside region, residues 5-22 were within the transmembrane and residues 1-4 were inside the region of the protein. Hydropathy analysis of CDTCJ protein of
C. jejuni
by the TOPCONS [
33
], Signal P-4.0 [
34
] and TMHMM programs suggested the presence of only one TM helix. We therefore localized the N terminus of CDTCJ in the cytoplasm. A consensus predicted topology is presented in Figure
2
.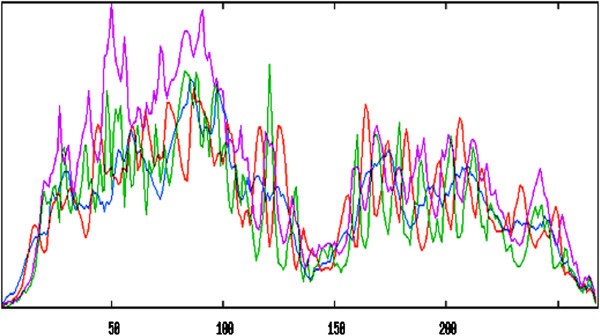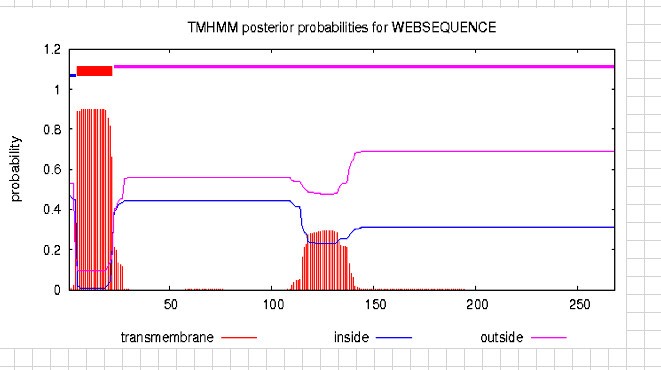 The sub cellular localization of CDT was predicted using CELLO, an approach based on a two-level support vector machine (SVM) system. This server predicts sub cellular localization of protein for Gram negative bacteria by supporting vector machines based on n-peptide compositions. The CELLO output gave significant reliability for outer membrane (0.198), periplasmic (1.76) extracellular (0.803) and cytoplasmic (2.493), it indicates that the protein is cytoplasmic.
Conclusions
The purpose of the present study was to perform a global screening for new immunogenic HLA class I (HLA-I) restricted cytotoxic T cell (CTL) epitopes of potential utility as a vaccine candidate against campylobacteroisis. The five epitopes of CDTCJ were identified. It is anticipated that, the peptide 170KTNTCLNAY178 can serve as novel potential vaccine candidate against diarrhea. These results have important implications for the rational design of CTL epitope-based CDT campylobacteriosis diagnostics and vaccines applicable to all ethnic groups. The presented research offered a backbone for understanding structural and functional insights of CDT protein. The additional experimental work is required to validate this epitope. The identification of ligand-binding sites is often the starting point for protein function annotation and structure-based drug design. In this study, we identify three predicted potential binding sites in CDT protein of C. jejuni. These are active sites on protein surface that performs protein functions.
Authors' information
Dr. Arun Ingale (Associate Professor and Head)
Department of Biotechnology, School of Life Sciences, North Maharashtra University, Jalgaon 425001, India.
Dr. Susumu Goto (Associate Professor)
Bioinformatics Centre, Institute of Chemical Research, Kyoto University, Kyoto, Japan.
Declarations
Acknowledgements
We are thankful to the Matsumae International Foundation, Japan for providing MIF fellowship to Arun G. Ingale to pursue the above research. We also extend our gratitude towards Prof. A.B. Chaudhari who critically evaluated the manuscript.
Authors' Affiliations
(1)
Department of Biotechnology, School of Life Sciences, North Maharashtra University, Jalgaon, India
(2)
Bioinformatics Centre, Institute of Chemical Research, Kyoto University, Kyoto, Japan
Copyright
© Ingale and Goto; licensee BioMed Central Ltd. 2014
This article is published under license to BioMed Central Ltd. This is an Open Access article distributed under the terms of the Creative Commons Attribution License (http://creativecommons.org/licenses/by/2.0), which permits unrestricted use, distribution, and reproduction in any medium, provided the original work is properly credited. The Creative Commons Public Domain Dedication waiver (http://creativecommons.org/publicdomain/zero/1.0/) applies to the data made available in this article, unless otherwise stated.