Research article

Open Access
A needs assessment of people living with diabetes and diabetic retinopathy
BMC Research Notes
2016
9:56
Received: 3 August 2013
Accepted: 18 January 2016
Published: 1 February 2016
Abstract
Background
The Kilimanjaro Diabetic Programme was initiated in response to the needs of people living with diabetes (PWLD) to identify barriers to uptake of screening for diabetic retinopathy, to improve management of diabetes, and establish an affordable, sustainable eye screening and treatment programme for diabetic retinopathy. Intervention Mapping was used as the framework for the needs assessment.
Methods
A mixed methods approach was used. Five psychometric measures, Diabetes Knowledge Questionnaire, Diabetes Health Beliefs, Self-Efficacy scale, Problem Areas in Diabetes scale, and Hopkins Scale Checklist-25 and a structured interview relating to self-efficacy, addressing disclosure of living with diabetes and life-style changes were used to triangulate the quantitative findings. These were administered to 26 PWLD presenting to rural district hospitals.
Results
The interviewees demonstrated low levels of perceived stigma regarding disclosure of living with diabetes and high levels of self-efficacy in raising community awareness of diabetes, seeking on going treatment from Western medicine over traditional healers and in seeking care on sick days. Self-efficacy was high for adjusting diet, although comprehensive dietary knowledge was poor. Negative emotions expressed at diagnosis, changes in life style and altered quality of life were reflected in high levels of anxiety and depression.
Conclusions
Low levels of stigma surrounding living with diabetes were linked to a desire to raise community awareness of diabetes, help others live with diabetes and to secure social support to access hospital services. Confusion over what constituted a healthy diet showed the importance of comprehensive, accessible diabetes education, essential to ensuring good glycaemic control, and preventing diabetic complications, including diabetic retinopathy. Low levels of self-efficacy along with high levels of anxiety and depression may have a negative impact on the uptake of screening for Diabetic Retinopathy. The findings of this needs assessment led to the planning and delivery of a comprehensive health intervention programme for PLWD in Kilimanjaro Region. The programme has provided them with support, resources, education, and screening for diabetic retinopathy at the regional hospital and at district level with mobile digital retinal cameras, an electronic diabetic database and computerised follow up to ensure continuity of care.
Keywords
Diabetic retinopathy
Screening
Self-efficacy
Social stigma
Diabetes mellitus
Diabetes complications
Needs assessment
Evidence based healthcare
Background
Diabetes has reached epidemic proportions with an estimated 285 million people living with diabetes globally in 2010 and 366 million in 2011 [1]. Global figures for those living with the disease must be viewed with caution due to difficulties in areas where social, economic and political factors make regular diabetes services difficult [1, 2]. It is estimated that in 2010 approximately 12.1 million people in Sub-Saharan Africa (SSA) were living with diabetes.
Diabetes in Africa is perceived to be more common amongst affluent urban dwellers than among poorer members of communities living in rural areas [3]. This urban versus rural pattern appears to be shifting in Africa, with an increase in diabetes among countries that are of low and middle income, and amongst the poorer of these nations. In 2010 in Tanzania the prevalence of diabetes was estimated at 5.8 % in urban and 1.7 % in rural areas and in the next two decades there is a projected 50 % increase in the prevalence of diabetes [3].
The relationship between diabetes and blindness due to diabetic retinopathy (DR) is well established. Global estimates for the prevalence of blindness are 0.55 %, of which blindness due to DR ranges from 1 to 4.8 % of this total [4]. In Sub-Saharan Africa it is estimated that 21–25 % of people with type 2 diabetes have diabetic retinopathy (DR) at diagnosis [5].
Screening people living with diabetes (PLWD) for DR meets the World Health Organisation criteria for screening and blindness prevention [6]. Screening for DR is effective if individuals are identified and DR treated early, before loss of visual acuity occurs. The longer the duration of diabetes the greater the risk to the individual of micro-vascular complications including DR, neuropathy and nephropathy [7].
When the study was conceived there were no up to date data available on the incidence and prevalence of diabetes and of DR for the Kilimanjaro Region [8]. When the diabetic clinic was first established at Kilimanjaro Christian Medical Centre (KCMC) hospital in 1996 a study of 474 patients found a prevalence of 14.5 % among this group [8].
There are no current data on uptake of diabetic services, how effectively health care workers communicate health information to PLWD; and in particular what information PLWD receive about eye health. Neither were there documented experiences or guidance concerning the establishment of DR screening services in developing countries.
A study conducted at KCMC Hospital in 2006 showed that a number of issues need to be addressed if blindness due to DR is to be prevented in the Kilimanjaro Region. The study found that in spite of specialist eye services at KCMC Hospital to support the diabetic clinic, most patients presented late for treatment of DR. As part of this study, a nurse counsellor attended the twice weekly adult diabetic clinic to give PLWD information about DR, encouraged them to ask questions and gave them a free referral to the eye clinic that could be used at their convenience. The study demonstrated that free referral for DR screening from the KCMC Diabetic Clinic to the nearby (less than 100 meters) KCMC eye clinic only managed to increase uptake to by 36 %. In this diabetic population 93, 71 % had not had a dilated eye examination in the past year. The authors suggested that knowledge, by itself, does not result in a change in health behaviour [9].
We aimed to develop a health promotion programme that would be informed and supported by the local community, draw upon local resources and be evidence based. Using intervention mapping [10] as the framework for the Kilimanjaro Diabetic Programme (KDP) [11, 12] we began by conducting a needs assessment (NA) [10]. A needs assessment is the first of 6 steps in planning health promotion programmes using an intervention mapping approach [10]. Bartholomew describes how this uses the PRECEDE model as a conceptual framework. The model examines a number of determinants including environmental and behavioural factors which have an effect on the health problems and ultimately the quality of life of the population at risk. The aim of this study was to provide an overview of the needs of a self-selecting group of people known to be living with diabetes in the Kilimanjaro Region.
Behavioural factors
A comprehensive ecological approach is valuable in gaining an understanding of the eye health behaviour of PLWD and in identifying barriers to the uptake of eye screening services, in order to establish an affordable, sustainable eye screening and treatment programme for DR [10]. This paper describes the first part of this process. The following concepts form the theoretical basis for this study.
Until the early 1990s knowledge, attitudes and belief models were the focus of diabetes education [13]. Subsequently it was recognised that PLWD required education from the perspective of self-management with an emphasis on self-empowerment and self-efficacy. This allows PLWD to manage their self-care in order to live a healthy life and prevent potential micro-vascular and macro-vascular complications, such as, DR [14].
Bandura [15] describes 'perceived self-efficacy' as beliefs in an individual's capabilities to plan, organize and conduct behaviour to achieve set goals according to self-set standards. It is not enough just to know what to do. The individual must have an effective and organised set of sub-skills; cognitive, social, emotional and behavioural, that can be engaged appropriately under different and sometimes difficult and challenging situations [15]. If an individual has a strong perceived self-efficacy they will set high goals, be firmly committed to achieving these goals and be able to persist with considerable effort in the face of difficulties in achieving their goals. The converse is true [16, 17].
Methods
The setting for this study was in 5 rural district hospitals in Kilimanjaro Region, Tanzania. Kilimanjaro Region has a population of 1,376,702 (Population census, 2002) [34]. Most roads in the area are gravel and access to health care is made either by foot, bicycle or public transport. In the rainy season some of these roads are difficult to access.
A mixed methods approach was used with one qualitative standardised questionnaire and five quantitative psychometric measures to triangulate the findings. In addition to this an eye health questionnaire (EHQ) was asked of all participants and screening for DR was offered to all who took part in the study. All PLWD who attended the health facilities where the NA were conducted were also offered screening for DR.
PLWD were invited to attend DR screening at the district hospitals with invitations being given through Faith Based Organizations, community groups and health services. The first people to arrive on each DR screening day were asked to take part in the NA interviews. Subjects completed all 7 questionnaires on the same day. These data were gathered using convenience sampling of 27 self-selecting known diabetics. All the PLWD who came to the NA day were offered screening for DR. The data from one person was discarded as it was incomplete. People under the age of 18 years and people who were considered to be too ill to take part in the study (e.g. with a high random blood sugar) were excluded from the study. People were read information about the purpose of the study gave written consent to take part in the study. Ethical approval was granted by the Ethics Committee of Kilimanjaro Christian Medical College, Tumaini University.
Socio-demographic information included age, gender, number of children, level of education, and occupation [35]. Visual acuity was calculated with reference to the International Classification of Diseases (ICD-10th revision) [36].
Adaptation and Translation of questionnaires—Adaptation and translation of the questionnaires from English into Swahili was conducted prior to the pilot study. The questionnaires were translated backwards and forwards by experienced staff and reviewed by the KDP working committee. Research assistants collected the psychosocial information using face-to-face administration, as some study participants were illiterate. The psychosocial instruments were marked with faces (

–

) to help participants with identifying the meaning of the scales on each instrument. The questions were read out in Kiswahili (the official language of Tanzania).
Qualitative measures
A series of 21 item structured interviews were conducted, in Kiswahili, with each of the 26 participants of the NA by an experienced community health care worker (see Table
2
). The interview sessions were discussed on conclusion by the interviewer (JM) and researchers (CH and AH). Each interview was taped and then transcribed and translated into English. The interviews were thematically coded using Atlas-ti 6, to establish the expressed needs of each PLWD. The data were coded into nine themes identified during the coding and re-coding process and measured in terms of self-efficacy, i.e. seeking initial diagnosis; expression of emotion at diagnosis; dialoguing with others about having diabetes (stigma); social support and raising public awareness; seeking on going treatment, engaging in dialogue about treatment; coping with sick days; seeking alternative therapy (herbalists), burden of disease and associated changes in life-style (understanding healthy living—diet and exercise). There was discussion between researchers (CH and AH) during the coding, re-coding and analysis of the structured interviews.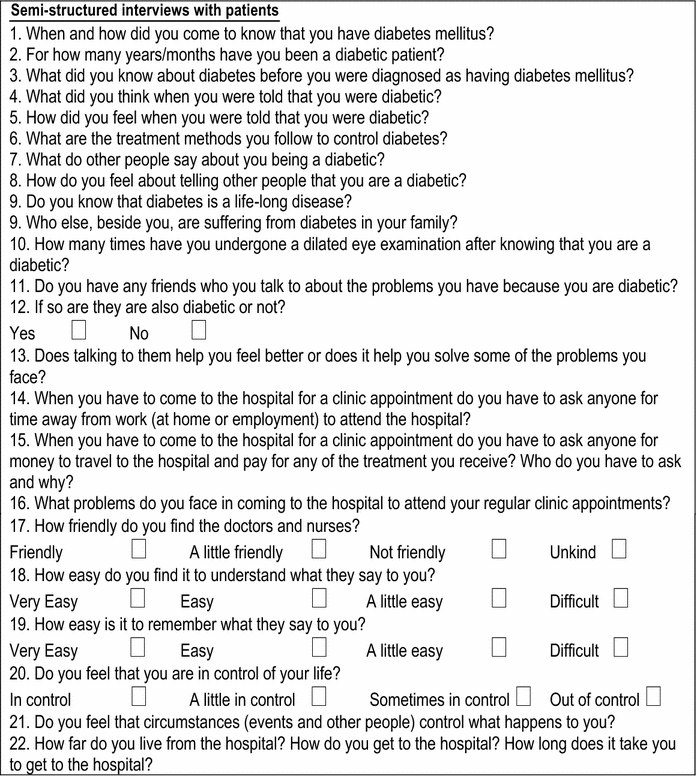 Quantitative measures
The five psychometric measures that were selected to evaluate the needs of the group of PLWD in the study were administered by the interviewers in Swahili
A five point Likert scale was used ranging from 'Strongly disagree' (1) to 'Strongly Agree' (5).
Eye Health Questionnaire (EHQ) The EHQ included questions relating to past eye health behaviour, whether individuals knew they needed to have annual eye screening and what barriers prevented them from attending for DR screening (see Table 1).
Analysis
The psychometric data were double entered and analysed in Excel. The qualitative structured interviews were thematically coded using Atlas-ti.
Discussion
In much of Sub Saharan Africa services for detecting and treating DR are often rudimentary and largely confined to urban centres. Many barriers to the care of diabetic retinopathy in the region have been identified. In addition to the obvious shortage of ophthalmologists and their lack of training in DR, low numbers of other ancillary ophthalmic staff such as optometrists and poor training in retinal examination to detect DR compound the problem. Furthermore there are inadequate referral systems from primary to secondary care and from diabetic clinics to ophthalmic services. The latter are poorly resourced in terms of imaging equipment and treatment infrastructure such as lasers [38, 39].
However the needs of PLWD and how these might interact with the health services have not been studied.
Conclusions
This needs assessment reveals dissatisfaction with the health workers treating their condition and low self-efficacy in areas of managing their diabetes and preventing complications, as well as a lack of knowledge about DM and its complications. High levels of anxiety and depression are experienced by PLWD. On a positive note there seems to be little stigma attached to a diagnosis of DM. These insights are useful in planning diabetic retinopathy screening and treatment services.
The KDP has moved through 4 of the 5 phases of implementing a DR screening service as described by Poore et al. [45]. These start with screening in the eye clinic, move to screening in the hospital diabetic clinic, create a diabetes register and call for eye screening and identifying undiagnosed DR in the community.
The quantitative measures and qualitative interviews, together with the findings of the EHQ for PLWD and a NA conducted with health care workers in Kilimanjaro Region were of value in showing the need for the comprehensive health intervention programme that was subsequently developed by the KDP [11]. The KDP was established with the combined efforts of government representatives, hospital directors, epidemiologists, endocrinologists ophthalmologists and social scientists [11]. Clearly there was a need for both diabetes education and eye health services at district level in Kilimanjaro region. The KDP has taken diabetes education to health care providers in Kilimanjaro region at district level so that they can provide education to PLWD on all aspects of self-care and management of living with diabetes.
As was seen from the EHQ, knowledge that DM damages the eye did not mean that PLWD would go for DR screening. The KDP developed a diabetic diary that allows PLWD to record their regular clinic visits and review their blood pressure, blood glucose, and weight. The diary also contains useful information for patients including sections on diet, exercise, foot care and eye health. The KDP facilitators subsequently led 3 years of annual educational workshops at district level in Kilimanjaro region. Two cartoons on DR were developed to provide patient information to PLWD when they attended for DR screening.
The DR screening programme is supported by an electronic database. The KDP electronic database of all known diabetics in Kilimanjaro was set up so that all PLWD, in Kilimanjaro region, can be registered and their clinic, and hospital attendance, screening and treatment for DR are electronically recorded. This allows for recording and review of retinal photographs and reminders to be sent automatically for review and treatment.
By the beginning of 2015, 3463 (60·4 %) of the 5729 individuals registered with the KDP, had been screened for retinopathy. The prevalence of any diabetic retinopathy was 27·9 % in those screened. Proliferative retinopathy was present in 2·9 % and maculopathy in 16·1 % of individuals who were screened [11, 12].
The KDP aimed to make screening for DR more accessible to PLWD by taking DR screening to the district level. The KDP helped to establish dedicated diabetes clinics in 18 peripheral hospitals, with the aim of providing knowledge based teaching, clinical support, resources and action plans that health care workers could use to empower PLWD. The mobile diabetic retinopathy screening team work through these centres.
Limitations and strengths
We conducted a large number of interviews and believe that this constitutes a reasonable representation of the views of people living with diabetes in the Kilimanjaro Region. However the subjects were not randomly recruited and there is the possibility of bias with for example subjects with a higher level of self-efficacy in managing their diabetes presenting for the needs assessment interviews.
Abbreviations
DR:

diabetic retinopathy
SE:

self-efficacy
DKQ:

Diabetes Knowledge Questionnaire
DHB:

Diabetes Health Beliefs
PAID:

Problem Areas in Diabetes
HCL-25:

Hopkins Scale Checklist-25
DM:

Diabetes mellitus
PLWD:

people living with diabetes
NA:

needs assessment
KDP:

Kilimanjaro Diabetic Programme
EHQ:

Eye Health Questionnaire
SSA:

Sub-Saharan Africa
Declarations
Authors' contributions
CH contributed to the research, data analysis, and wrote the manuscript*, AH contributed to the concept, proposals, discussions, analysis and revised the manuscript, JM researched data and contributed to discussions, GK reviewed the manuscript, PC supervised, advised and reviewed the manuscript. All authors read and approved of the final manuscript.
Acknowledgements
We are grateful to cbm and AusAid for funding of the Kilimanjaro Diabetic Programme. Thanks to Herman Schaalma, from Maastricht University for advice and supervision, he is sadly missed.
Competing interests
The authors declare that they have no competing interests. Oral presentation of some of this material was made at the International Society of Geographical and Epidemiological Ophthalmology, Hyderabad, India, 21st September, 2012.
Availability of data and materials
The dataset supporting the conclusions of this article are included within the article.
Open AccessThis article is distributed under the terms of the Creative Commons Attribution 4.0 International License (http://creativecommons.org/licenses/by/4.0/), which permits unrestricted use, distribution, and reproduction in any medium, provided you give appropriate credit to the original author(s) and the source, provide a link to the Creative Commons license, and indicate if changes were made. The Creative Commons Public Domain Dedication waiver (http://creativecommons.org/publicdomain/zero/1.0/) applies to the data made available in this article, unless otherwise stated.
Authors' Affiliations
(1)
Department of Work and Social Psychology, Faculty of Psychology and Neuroscience, University Maastricht, Maastricht, The Netherlands
(2)
Newcastle Eye Hospital Research Foundation, Waratah, Australia
(3)
Kilimanjaro Christian Medical Centre, Moshi, Tanzania
(4)
KCCO International, Division of Ophthalmology, H53 OMB, Groote Schuur Hospital, University of Cape Town, Observatory, South Africa