Research article

Open Access
Population structure in Atlantic cod in the eastern North Sea-Skagerrak-Kattegat: early life stage dispersal and adult migration
BMC Research Notes
2016
9:63
Received: 18 April 2015
Accepted: 20 January 2016
Published: 3 February 2016
Abstract
Background
In marine fish species, where pelagic egg and larvae drift with ocean currents, population structure has been suggested to be maintained by larval retention due to hydrographic structuring and by homing of adult fish to natal areas. Whilst natal homing of adults has been demonstrated for anadromous and coral reef fishes, there are few documented examples of philopatric migration in temperate marine fish species.
Results
Here, we demonstrate temporally stable genetic differentiation among spawning populations of Atlantic cod (Gadus morhua L.), and present genetic and behavioural evidence for larval drift and philopatric migration in the eastern North Sea-Skagerrak-Kattegat area. We show that juvenile cod collected in the eastern Skagerrak and central Kattegat are genetically similar to cod from offshore spawning areas in the eastern North Sea. Genetic assignment of individual 2–5 year old fish indicates that cod residing at, or migrating towards, spawning areas in Kattegat and the North Sea display philopatric behaviours.
Conclusions
Together these findings suggest a loop between spawning, larval drift and adult return-migrations to spawning areas and underlines that both oceanographic processes and migratory behaviour in the adult phase may be important for stock separation and integrity in marine temperate fishes such as Atlantic cod.
Keywords
Gadus morhua Larval driftPhilopatric behaviourPopulation structureStockConnectivityGenetic assignment
Background
Recognizing temporal and spatial structuring in marine fishes and understanding of the mechanisms responsible for population structure are of vital importance for fisheries management and species conservation [1–4]. Structuring mechanisms include fish migratory behaviour [5], in particular spawning site fidelity such as natal homing of mature adults [6], and physical forcing, where hydrodynamic stratification, currents and eddies leads to dispersal, retention or settlement of eggs and larvae [7–10]. Interactions between oceanographic and environmental features, such as bathymetry, temperature and salinity, with egg buoyancy and larval behaviour are thus considered to be of high importance for connectivity and gene flow, as they set the limits for population differentiation [11].
Because marine fish species often show ontogenetic and seasonal shifts in habitat use, the entire life cycle has to be considered when studying processes shaping population structure [12–14]. Spawning-site fidelity, i.e., adult fish returning repeatedly to spawn at the same location, irrespectively whether they were hatched at this location or not, is widely recognized in many species, e.g., Atlantic Cod, Gadus morhua [5]. Natal homing, where fish actively return and spawn where they were born, on the other hand, has so far been demonstrated only in a few cases, such as coral reef fishes [15–18], salmonids [19] and Atlantic bluefin tuna, Thunnus thynnus, [20], although strong circumstantial evidence has been presented for e.g., eels, Anguilla sp. [21], Atlantic herring, Clupea harengus, [22], pike, Esox lucius, [23] and Atlantic cod [24–27]. The distinction between spawning site fidelity and natal homing is fundamental because natal homing behaviour is expected to contribute to population differentiation given sufficient time, whereas spawning-site fidelity may not necessarily lead to reproductive isolation if there is extensive egg and larval drift together with opportunistic and non-philopatric recruitment of juveniles to adult aggregations [13, 28]. Demonstrating natal homing in marine fish species that disperse both passively as planktonic larvae, and by active locomotion as adults, is methodologically challenging and requires that individuals can be tracked from the egg stage to maturation and reproduction, or that reproducing individuals can be assigned to specific spawning populations using distinguishable natal tags [12, 29]. To date, natal homing has been inferred using natural tags such as elemental [6, 15, 20, 23, 30] or genetic fingerprints [17, 31].
Atlantic cod is a marine fish that exhibits population structuring on both large and small spatial scales [32, 33]. In the North Sea-Skagerrak-Kattegat area Atlantic cod comprise a mixture of co-existing resident forms completing their entire life cycle in fjords or sheltered areas [34], and oceanic populations [25, 30, 35–39]. While adult cod abundance has declined dramatically in the eastern inshore Skagerrak and Kattegat since the 1980′s, juvenile cod show no such trend [36, 40]. Genetic analyses [34, 41] in combination with oceanographic modelling [42] suggest an extensive drift of cod larvae from the North Sea into coastal Skagerrak, where they settle and possibly mix with juveniles of local coastal origin. The inflow of larvae does not, however, seem to support the diminishing coastal Skagerrak or Kattegat stocks [36, 40]. Rather, it has been hypothesized that the present low abundance of adult cod in eastern Skagerrak is due to return migrations to natal areas in the North Sea [25, 43–45].
Here, we further investigated the population structure and the mechanisms of dispersal and connectivity between cod populations in the eastern North Sea, Skagerrak and Kattegat. First, we investigated the spatial and temporal genetic structure by targeting adult fish at spawning. Second, we examined, by genetic analyses, the temporal variation in larval drift from the eastern North Sea by genetic analyses of juvenile cod in eastern Skagerrak and Kattegat collected in 2005 and 2011. Third, as both a temporally stable population structure was observed, and juveniles were found to be dispersed between areas, it was concluded that alternative structuring mechanisms to physical forcing are likely to be at play for cod in the area. For that reason, we tested whether philopatric migration behaviour, including natal homing, may act as a stock structuring process in cod by matching DNA profiles of individual migrating fish with the genetic information from cod populations on spawning grounds. Using archival tags, Svedäng et al. [25] showed that 2–5 year old cod released in eastern Skagerrak undertake directional migration towards the North Sea during the spawning season, indicating migration to potential natal spawning grounds [45]. Moreover, Svedäng et al. [25] identified groups of cod with both directional and resident migratory behaviours. By combining information from behavioural groups identified by data storage tags, with individual genetic analyses, we were able to test specifically the hypothesis that cod return to a likely place of birth at the time of spawning. This combination of methods thus elucidates the links between different life stages, and provides new insights on how population structures in marine systems are maintained and may evolve.
Results
Population structure
When testing for overall population divergence among the 15 adult and juvenile samples, we found a low but overall significant level of divergence (8 loci: F ST = 0.0027; P = 0001: Additional file 1: Table S1). The level of divergence was fairly similar among loci (cf. Additional file 1: Table S1) and no statistical "outlying" loci were detected (Additional file 2: Figure S1), indicating absence of strong selective forces acting on these loci. Hence, they were considered as suitable for population analyses. The analysis of pairs of samples (Additional file 3: Table S2) show that the two main oceanic populations of cod, in the North Sea and Kattegat, respectively, are clearly genetically divergent (mean pairwise differentiation between the two regions, F ST ± CI0.95 = 0.0036 ± 0.0013; Additional file 4: Table S3). This divergence appears temporally stable, as evidenced by samples collected in different years (Additional file 4: Table S3a), and from comparisons of year-classes (Additional file 4: Table S3b). These findings represent key requirements for statistical assignment of behavioural groups to population of origin (below).
Juvenile cod
Another important observation from these pairwise comparisons (Additional file
3
: Table S2) is that juvenile 0-group cod samples collected along the Eastern Skagerrak coast in 2005 (samples SKJ05a, b, and c) and offshore in 2011 (SKJ11 and KAJ11) were all rather similar to adult eastern North Sea cod (cf. Additional file
3
: Table S2), and clustered together with them (Fig.
1
).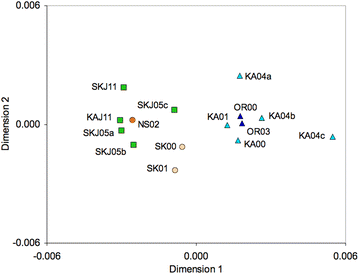 Genetic assignment of tagged fish
Assignment of adult reference individuals collected in spawning areas showed that about 80 % (83 % for the Kattegat and 79 % for the North Sea) of the fish were assigned back to their original reference population (Table
1
: upper rows). The exclusion test showed that all 100 tagged individuals had a probability of 13 % or more (median 70 %) to be encountered in at least one of the two reference populations, and hence all tagged individuals were included in further analyses. The recapture positions and the genetic assignment of the tagged fish (either to the North Sea/western Skagerrak reference or to the Kattegat reference) with five different migratory behaviours are shown in Fig.
2
. For the two groups of fish that migrated towards the North Sea, 60 and 63 % of the individuals were assigned to the North Sea reference population (Table
1
a). All fish (3 individuals) that migrated from the Skagerrak towards the Kattegat were assigned to the Kattegat reference. A majority (67 %) of the fish that were proposed to be resident in the Kattegat were also assigned genetically to the Kattegat reference (Table
1
a). Similarly, 62 % of the resident fish in the Skagerrak were assigned to the North Sea/western Skagerrak reference. Of the 100 tagged fish, 35 individuals showed directional migration in the geolocation data. An exact test showed that the direction of migration was not independent of assignment (Table
1
b;
P
= 0.032), and a higher proportion than random migrated towards the population they were genetically assigned to. This finding is consistent with both philopatry (spawning site fidelity) and natal philopatry (spawning site fidelity to their "birth" site) in the migrating fish.
Table 1
Genetic individual assignment of tagged cod in groups with different migratory behaviours
Group

Numbers

Proportions

Kattegat

North Sea

Sum

Kattegat

North Sea

a

Reference samples:

Kattegat

359

76

435

0.83

0.17

North Sea/W Skagerrak

43

158

201

0.21

0.79

Behavioural groups:

Skagerrak → North Sea

10

17

27

0.37

0.63

Kattegat → North Sea

2

3

5

0.40

0.60

Skagerrak → Kattegat

3

0

3

1.00

0.00

Nonmigratory Skagerrak

11

18

29

0.38

0.62

Nonmigratory Kattegat

24

12

36

0.67

0.33

b

Assignment to

Migration towards

Kattegat

North Sea

Kattegat

3

12

North Sea/W Skagerrak

0

20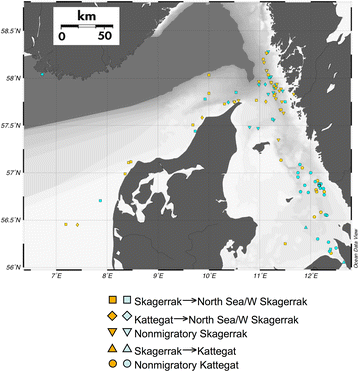 To assess whether the unequal sizes of the North Sea (n = 201) and Kattegat (n = 435) reference samples affected assignment power, the Kattegat reference was subsampled at n = 201 ten times (equal to the North Sea sample) and the assignment of the tagged fish was accordingly repeated. The results were similar to the original pattern, although somewhat less pronounced (compare Additional file 5: Table S4 with Table 1). Hence, there was no indication of bias towards the larger Kattegat sample.
Discussion
The genetic assignment of juveniles in this study provides evidence of recurrent transport of Atlantic cod, most likely at the pelagic egg and larval stages, from the North Sea to coastal Skagerrak and Kattegat, in agreement with previous findings [41, 42]. Despite the obvious potential for gene flow caused by this transport, there still remains a weak but temporally stable genetic population structure of cod in the eastern North Sea-Skagerrak-Kattegat region ([34, 46–50], this study). The association between adult individual migratory behaviour and genetic assignments reported herein suggests that natal homing may act as a governing mechanism for maintaining the cod stock structure even on a relatively small spatial scale.
Migratory behaviour
The tagged fish displayed a variety of migratory and resident behaviours, as has been shown previously in Atlantic cod [5]. The numbers of fish in the five different behavioural groups were relatively low and the results should accordingly be interpreted with caution. Nevertheless, our results show that cod with different behaviour mainly act as predicted under the hypothesis of philopatry. The majority of cod migrating towards the western Skagerrak and the North Sea were genetically assigned to the North Sea spawning population, whereas the majority of cod migrating towards the Kattegat or remaining stationary within Kattegat were assigned to the Kattegat spawning population. Cod that remain along the eastern Skagerrak during the course of this study assigned predominantly to the North Sea population, as may be hypothesised from consideration of North Sea larval drift and poor local recruitment in this area. These observations were done despite relatively low genetic differentiation between the Kattegat and the North Sea reference populations, as exemplified by the moderate self-assignment proportions for the two reference samples (cf. Table 1) and the low F ST between them (0.0041). Such levels of genetic differentiation have however been suggested to be of clear biological relevance [34], are typical of cod also in other regional studies [26, 35, 51], and are indicative of gene flow among populations and/or a recent common historical origin. Gene flow can arise from straying of adults among spawning areas [13] or from larval drift, if some settled cod enter the local population [42]. Historically, Atlantic cod colonised the Skagerrak-Kattegat area less than 8–10,000 YBP and most populations are evolutionary young [52, 53]. Low differentiation between reference populations reduces the power of the genetic assignment tests [54], and is a likely cause for the low assignment proportions that we observed for the recaptured cod (typically 80 % self assignment in reference populations and around 65 % for each behaviour group: Table 1a and Additional file 5: Table S4). As a comparison, in a recent study of Atlantic salmon with an order of magnitude higher population divergence (F ST ≈ 0.07), self assignment was 65 % using 14 microsatellite loci and ten source populations (n = 50) [55]. Hence, low assignment proportions of tagged fish should not necessarily be interpreted as evidence for high straying or low natal fidelity in the present study. Instead, the tagged fish are expected to show a somewhat less clear picture than the reference fish, which were specifically targeted at spawning sites at spawning time. As indicated by the exclusion tests, some of the tagged fish may have originated from populations outside the two reference groups, and this would reduce the assignment proportions. Other issues that could affect the results include the possibility that some of the eleven fish that were tagged during spring/summer had not yet started the spawning migration when recaptured in the autumn, and therefore were not classified in the correct behavioural group. Also, some groups consisted of a few individuals only (Table 1). Nevertheless, the proportions of fish in the five behaviour groups that were assigned to the expected population of origin was only slightly lower than the self assignment proportions of individual members in those populations, and in all five cases the majority of fish behaved in accordance with philopatry.
In salmonids, the evolutionary most important factor favouring natal homing has been suggested to be that such behaviour return locally adapted individuals to suitable habitats [19]. For a marine fish such as the Atlantic cod, it appears that certain areas are more suitable for spawning and that these sites are used both by migratory and resident stocks [5, 26, 56–59]. The proximate causes for the natal homing behaviour in cod are still unknown, although recent genome scan studies show that certain genomic regions are associated with migratory behaviour in cod, indicating a genetic basis for migration [39, 60]. The migratory patterns revealed in the present study seem to exclude simple environmental cues, such as prevailing directions of sea currents [61]. Experiments with salmonids have demonstrated the localization of the "natal stream" in anadromous species to be part of a learning process during the juvenile phase [62]; while small-scale localization rely on chemical cues, large scale orientation is suggested to involve geomagnetic imprinting [63, 64]. A recent experimental study on Sea turtles indicates that the magnetic environment during early development, already at the egg stage, can influence the magnetic orientation behaviour in subsequent life stages [65]. Further, the mechanisms behind natal homing has been extensively studied in tropical fish and recent modelling studies indicate that recruitment to natal reefs are expected to be relatively high and depending on the combination of sensory abilities and oceanographic features [18, 66]. For Atlantic herring, it has been suggested that migration between spawning, wintering and feeding grounds is a socially transferred behaviour, where new year classes adopt the same migratory patterns as older herring cohorts [67]. However, mixing during the juvenile stages and the subsequent migration to different spawning grounds harbouring genetically distinct populations [22, 68], suggests segregation also by natal homing in herring. For marine fishes like Atlantic herring and Atlantic cod, the stock structure may thus be imprinted already in early life stages, before juveniles of different origins intermingle in nursery areas.
Population structure in the North Sea-Skagerrak-Kattegat
The pattern emerging from this and previous studies on cod population structure in the North Sea-Skagerrak-Kattegat region can be summarised as follows: Cod eggs and larvae are transported with currents from the North Sea to coastal Skagerrak. Juvenile cod collected in the coastal Skagerrak in 2001, 2004, 2005 and 2011 were more similar genetically to North Sea spawning aggregations than to local adult cod ([34, 41, this study Fig. 1]). Here we present new evidence that larval transport also protrude into the Kattegat (Fig. 1). The strength and direction of larval drift are apparently governed by an interaction between the size and location of the North Sea cod spawning biomass and the sea-current strength from the North Sea into the Skagerrak/Kattegat during and after spawning, and has a significant effect on the abundance of juvenile cod along the coast [40, 42]. Heath et al. [69] showed that North Sea cod consists of two genetically distinct units. While our study, and also previous genetic and modelling, have considered the Dogger unit in the central North Sea, recent work using genetic assignment tests on juvenile cod collected in 2014 in Skagerrak and northern Kattegat suggest that both Dogger Bank and the Viking Bank may be important sources of larvae for the area (J. Hemmer Hansen unpubl. data). Nevertheless, as cod larvae are transported into coastal fjord systems, they might be trapped by oceanographic forces, and mixed together with local coastal cod larvae [70]. On the Norwegian Skagerrak coast small local genetically distinct fjord populations persist in spite of this extensive larval drift [34, 47], indicating that foreign larvae are not incorporated into local coastal populations. The distribution pattern of juveniles and adults [36, 40, 44] and tagging studies [25, 43] suggest instead that many juveniles that grow up in coastal Skagerrak migrate back towards the North Sea when reaching maturity, at 2–3 years age; this return migration is corroborated by the genetic assignment of tagged fish presented here. In addition, we find a similar philopatric movement of cod of presumed Kattegat origin. Although conclusive evidence have been lacking, indirect evidence of natal homing have been found in several other cod populations in the eastern [24, 26, 39, 59] and western Atlantic [27, 56, 57].
Conclusions
The distribution of adult fish in the eastern North Sea region can be regarded both as a result of spawning aggregation in certain areas and the return migrations linked to larval drift from these reproduction units. If natal homing is an important mechanisms for cod migration, as our results suggest, an area currently depleted of its local stock components can be repopulated by fish from adjacent areas only slowly, as straying adults aggregate at new locations and give rise to new populations [13, 59, 71]. The disappearance and slow recovery of local stocks of cod in the North Sea region [28, 36, 44, 72] and in the Northwest Atlantic [73, 74] is illustrative in this sense. Even if some inshore enclaves have shown signs of recovery, adjacent areas formerly equally productive, have not been repopulated [74]. Recognition of a possibly slow-changing behavioural stock structuring mechanism is hence of high importance for the assessment and management of marine fisheries [4, 75].
Declarations
Authors' contributions
CA and HS conceived the study, in discussions with HK, AKR and PEJ. HS, PJ and MS performed the tagging and analysed the tagging data. CA, HK, AKR and GD did the genetic analyses. CA and PEJ analysed the genetic data. CA wrote the manuscript in collaboration with all authors. All authors read and approved the final manuscript.
Acknowledgements
We thank the many fishermen who have reported recaptures and sent back tags and fish from all over the eastern North Sea region, and Anders Svenson, Peter Jacobsson, Ann-Marie Bratt and the crews on R/V Ancylus for their assistance in the tagging practices. Benno Jönsson, Erika Norlinder and Mikael Dahl assisted with genetic analyses. Per Jonsson, Susanne Liljenström, Vidar Øresland and three reviewers gave valuable comments on an earlier version of the manuscript. This project was funded by the Swedish Research Council FORMAS, the GU Centre for marine evolutionary biology (Cemeb), the Swedish Agency for Marine and Water Management (SwAM) agreement 4821-13, the European Fisheries Fund, the Norwegian Research Council and EU Interreg funds.
Competing interests
All authors declare that they have no competing interests.
Open AccessThis article is distributed under the terms of the Creative Commons Attribution 4.0 International License (http://creativecommons.org/licenses/by/4.0/), which permits unrestricted use, distribution, and reproduction in any medium, provided you give appropriate credit to the original author(s) and the source, provide a link to the Creative Commons license, and indicate if changes were made. The Creative Commons Public Domain Dedication waiver (http://creativecommons.org/publicdomain/zero/1.0/) applies to the data made available in this article, unless otherwise stated.
Authors' Affiliations
(1)
Department of Marine Sciences-Tjärnö, University of Gothenburg, Strömstad, Sweden
(2)
Department of Aquatic Resources, Institute of Marine Research, Swedish University of Agricultural Sciences, Lysekil, Sweden
(3)
Institute of Marine Research, Flødevigen, His, Norway
(4)
Institute of Marine Research, Nordnes, Bergen, Norway
(5)
Department of Biosciences, Centre for Ecological and Evolutionary Synthesis, University of Oslo, Oslo, Norway
(6)
University of Agder, Kristiansand, Norway