Double non-contiguous fractures in a patient with spondylo-epiphyseal dysplasia with spinal ankylosis treated with open and percutaneous spinal fixation technique: a case report
BMC Research Notes
2018
11:106
Received: 10 October 2017
Accepted: 1 February 2018
Published: 7 February 2018
Abstract
Background
Patients with ankylosing spines are susceptible to developing spinal fractures even with minor trauma and can develop early or late neurological injuries. These fractures require early and aggressive surgical management to enable spinal stability and/or neural decompression. Being highly unstable by nature, they require relatively long segment instrumentation and fusion, which can increase paravertebral soft tissue damage and perioperative bleeding. The purpose of this report is to describe a rare case of traumatic double fractures at the cervico-thoracic and thoraco-lumbar transition zones in ankylosing spine with spondylo-epiphyseal dysplasia (SED) of unknown cause, which were successfully treated with a combined open and percutaneous spinal fusion procedure.
Case presentation
A 46-year-old woman who was diagnosed with non-contiguous fractures in cervico-thoracic and thoraco-lumbar junction zones among multiple injuries sustained in a traffic accident was treated with hybrid techniques for posterior instrumentation with an open approach using a computed tomography (CT)-based navigation system and percutaneous pedicle-screwing method. She regained mobility to pre-admission levels and started walking on crutches 3 months postoperatively. Genetic testing for the cause of SED revealed no mutation in the COL2A1 or TRPVR4 genes. The union of fractured spine was confirmed on CT scan 1 year postoperatively.
Conclusion
This is the first report of double spinal fractures in an ankylosing spine with genetically undetermined spondyloepiphyseal dysplasia. A long-segment posterior instrumentation procedure incorporating the invasive treatment of spinal fractures in ankylosing spondylitis or diffuse idiopathic hyperostosis was effective.
Keywords
Trauma
Spine
Spondylo-epiphyseal dysplasia
Ankylosing spine
Spinal fracture
Background
Ankylosing spondylitis (AS) or diffuse idiopathic skeletal hyperostosis (DISH) commonly accompanies ankylosing spines; spinal fractures frequently occur with minor trauma [1, 2] and are extremely unstable because of the long lever arms of the fused spinal column and several complications, including common early and late neurological symptoms [2]. Therefore, early surgery for neural decompression and spinal stability is recommended [3, 4]. A case with double fractures of an ankylosing spine with genetically undetermined spondyloepiphyseal dysplasia (SED) and spinal ankylosis was successfully treated with hybrid open and percutaneous spinal fusion.
Case presentation
A 46-year-old woman involved in a traffic accident was brought to our hospital. On arrival at the emergency room, her vital signs were stable and physical examination revealed no neurological deficit. Whole body computed tomography (CT) confirmed double spinal fractures at the cervicothoracic (C-T) and thoracolumbar (T-L) junctional zones in an ankylosing spine, with atlas to coccyx fusion, as well as traumatic hemopneumothorax and multiple rib fractures. A right thoracic curve with a Cobb angle of 15°, a sagittal kyphotic thoracic curve with a Cobb angle of 73°, sacral anteversion, and coccygeal retroversion were observed
(
Fig.
1
)
. Magnetic resonance imaging of the spine revealed a mild dural sac indentation at the T-L junctional zone, but without spinal cord compression.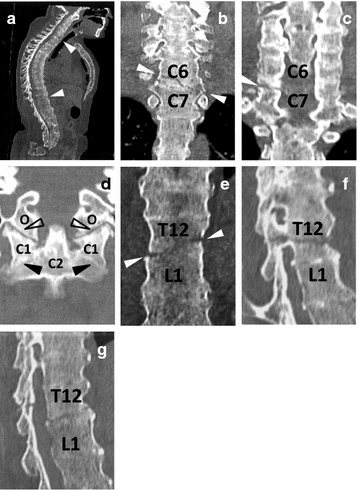 In infancy, the patient had progressive multiple joint contractures indicating arthrogryposis multiplex congenital, which was not genetically confirmed. Height and weight on admission were 130 cm and 40 kg, respectively. No visual or acoustic deficits were evident. Whole body roentgenograms revealed marked osteoarthritic changes in almost all joints and ankyloses in the knees and shoulders. She had no medical history of fractures and underwent left and right hip joint replacement surgeries at 32 and 39 years of age, respectively
(
Fig.
2
)
. Respiratory distress from traumatic hemopneumothorax resolved within 8 days of hospitalization, and the patient subsequently underwent surgical posterior spinal fusion of both spinal fractures without bone grafting
(
Fig.
3
)
.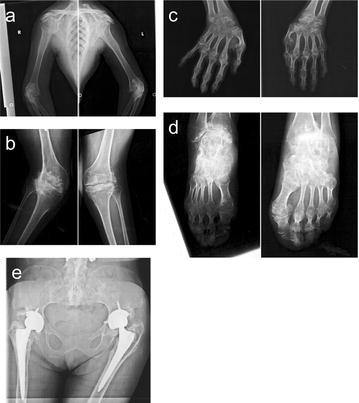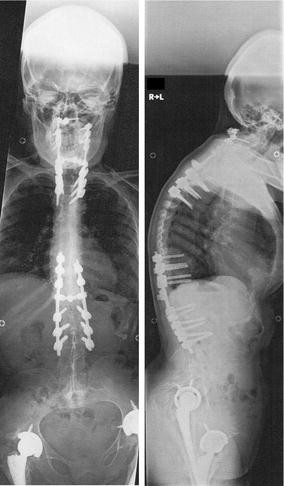 The patient underwent tracheal intubation in the neutral cervical spine position using a monitor-integrated video laryngoscopy. She was then placed in the prone position taking care not to displace floating thoracic spine fragments. Spinal alignment in the prone position was checked using fluoroscopy and CT; a mattress was inserted between the body and four-post spine frame to equalize the space created by the thoracic spine kyphotic deformity, and C2–T4 and T9–L3 posterior fusion was performed. A C2 lamina screw (left side), pedicle screw (right side), cervical lateral mass screws (C3–C6), and thoracic pedicle screws (T2–T4) were inserted via an open approach. A C-arm three-dimensional navigation system (Brainlab Spinal Navigation, Munich, Germany) was used for placing C2 and thoracic pedicle screws; lateral mass screws were placed using a lateral fluoroscope. Contoured rods from C2 to T4 and a cross-link at the T1 level were placed. Pedicle screws were percutaneously placed from L1 to L3 using biplanar fluoroscopy.
Although identifying pedicle contours of T9–T11 was difficult because of spinal osteoporosis, screw placement was safely performed without a navigation system via the open approach because the diameters of the pedicles at these levels were large enough (> 6.0 mm on the preoperative CT scan). Pedicle screws were not placed along the left side of T9 because the pedicle was sclerosed and a rib fracture dislocation occurred while preparing the pilot hole. The 5.5-mm contoured rods were inserted through polyaxial heads of pedicle screws at the open thoracic incision and caudally passed subcutaneously through polyaxial heads of lumbar pedicle screws. Cross-links were placed between T12 and L1. Decompressive laminectomy or laminotomy was not performed because of the absence of cord compression. Surgical duration was 8 h, with approximately 1100 mL blood loss. The patient recovered well without postoperative complications and was discharged for rehabilitation 2 months postoperatively. She could walk and resume work, respectively, at 3 and 6 months postoperatively. One-year follow-up CT revealed a bony fusion of C-T and T-L fractures
(
Fig.
4
)
. We suspected SED based on her medical history and whole body roentgenograms, but did not find
COL2A1
and
TRPV4
mutations; further genetic testing was not performed because no candidate gene for this phenotype was identified.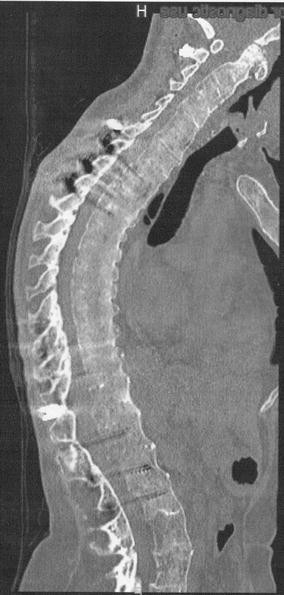 Discussion and conclusions
We report double noncontiguous spinal fractures in a patient with SED having spinal ankylosis. No similar cases have been reported, which necessitated adaptation of spinal fracture treatments in patients with AS or DISH.
Abbreviations
SED:

spondylo-epihyseal dysplasia
CT:

computed tomography
AS:

ankylosing spondylitis
DISH:

diffuse idiopathic skeletal hyperostosis
C-T:

cervico-thorcic
T-L:

thoraco-lumbar
Declarations
Authors' contributions
TU, KK, and GK have been involved in the clinical management, data acquisition and interpretation of data of the patient. TM, TK, GN, AI, SI and NH were involved in genetic testing for TRPV1 mutation. GN and MT performed genetic testing for COL2A1 mutation. TK, GN SI and NH were involved in image diagnosis of the patient. TU, KK and GK drafted the manuscript. All authors read and approved the final manuscript.
Acknowledgements
Not applicable.
Competing interests
The authors declare that they have no competing interests.
Availability of data and materials
The datasets used during the current report are available from the corresponding author on reasonable request.
Consent for publication
The patient provided informed written consent for the publication of her data.
Ethics approval and consent to participate
Not applicable.
Publisher's Note
Springer Nature remains neutral with regard to jurisdictional claims in published maps and institutional affiliations.
Open AccessThis article is distributed under the terms of the Creative Commons Attribution 4.0 International License (http://creativecommons.org/licenses/by/4.0/), which permits unrestricted use, distribution, and reproduction in any medium, provided you give appropriate credit to the original author(s) and the source, provide a link to the Creative Commons license, and indicate if changes were made. The Creative Commons Public Domain Dedication waiver (http://creativecommons.org/publicdomain/zero/1.0/) applies to the data made available in this article, unless otherwise stated.
Authors' Affiliations
(1)
Department of Spine Surgery, Saga Medical Centre, Koseikan, Saga, Japan
(2)
Department of Trauma Centre, Saga Medical Centre, Koseikan, Saga, Japan
(3)
Department of Orthopedic Surgery, Kyushu University Graduate School of Medical Sciences, Fukuoka, Japan
(4)
Division of Developmental Disability, Misakaenosono Mutsumi Developmental Medical and Welfare Center, Isahaya, Japan
(5)
Department of Endocrinology and Metabolism, Tokyo Metropolitan Children's Medical Center, Tokyo, Japan
(6)
Department of Radiology, Tokyo Metropolitan Children's Medical Center, Tokyo, Japan
(7)
Laboratory of Bone and Joint Diseases, RIKEN Center for Integrative Medical Sciences, Tokyo, Japan
(8)
Department of Rehabilitation Medicine, Graduate School of Medicine, The University of Tokyo, Tokyo, Japan