Research article

Open Access
A fitness index for transplantation of machine-perfused cadaveric rat livers
BMC Research Notes
2012
5:325
Received: 10 November 2011
Accepted: 28 May 2012
Published: 25 June 2012
Abstract
Background
The 110,000 patients currently on the transplant waiting list reflect the critical shortage of viable donor organs. However, a large pool of unused organs, from donors after cardiac death (DCD) that are disqualified because of extensive ischemic injury, may prove transplantable after machine perfusion treatment, fundamentally impacting the availability of treatment for end-stage organ failure. Machine perfusion is an ex-vivo organ preservation and treatment procedure that has the capacity to quantitatively evaluate and resuscitate cadaveric organs for transplantation.
Methods
To diagnose whether an organ was fresh or ischemic, an initial assessment of liver quality was conducted via dynamic discriminant analysis. Subsequently, to determine whether the organs were sufficiently viable for successful implantation, fitness indices for transplantation were calculated based on squared prediction errors (SPE) for fresh and ischemic livers.
Results
With just three perfusate metabolites, glucose, urea and lactate, the developed MPLSDA model distinguished livers as fresh or ischemic with 90% specificity. The SPE analyses revealed that fresh livers with SPEF < 10.03 and WI livers with SPEWI < 3.92 yield successful transplantation with 95% specificity.
Conclusions
The statistical methods used here can discriminate between fresh and ischemic livers based on simple metabolic indicators measured during perfusion. The result is a predictive fitness index for transplantation of rat livers procured after cardiac death. The translational implications of this study are that any donor organ procured from controlled, but most especially from uncontrolled cardiac death donors, will be objectively assessed and its recovery monitored over time, minimizing the critical loss of otherwise viable organs.
Keywords
Transplantation indexPrincipal component analysis (PCA)Partial least squares (PLS)Extracorporeal liver perfusionDonors after cardiac death
Background
The major untapped pool of donor organs that could be used to alleviate the critical shortage of transplantations derives from donors who have experienced cardiac death [1, 2]. Approximately 4,000 patients perish while waiting for a donor liver every year [3], while the estimated pool of livers from donors after cardiac death (DCD) with recoverable ischemic times of 30 – 60 minutes is on the order of 6,000 grafts per year [2].
In the absence of cardiac output, ischemic damage increases in severity as a function of time. Beyond a certain cutoff (about 30 minutes for the liver) graft survival in the recipient falls dramatically [4]. Preclinical studies with extracorporeal machine perfusion systems in porcine and murine models of DCD livers [5–11], including from our group [12–14], indicate that up to 60 minutes of warm ischemic damage can be successfully reversed, whereas static cold storage in preservation medium, the current clinical gold standard, simply exacerbates the damage and recipient animals do not survive. Research in machine perfusion systems is subsequently a very active field in donor organ recovery and preservation [15–18].
In humans, cardiac death frequently occurs in uncontrolled environments (uDCD). Hence without objective metrics of ischemic duration and organ viability, uDCD organs cannot be safely transplanted. A suitable framework for developing a fitness index that describes whether an organ is transplantable or not could be based on the dynamic correlation between metabolites measured during perfusion and evaluated with multivariate statistical process monitoring (SPM) [19, 20]. Normothermic (37 °C) Machine Perfusion (NMP) is especially amenable to this analysis since it allows measurable metabolic activity to occur in the organ.
The aim of this work is the development of a fitness index for transplantation for DCD livers based on the organ ischemic injury level and metabolite transient profiles during perfusion, as a proof-of-concept in a rat model. To create such an index, we compared NMP treatment of fresh, 60 min, and 90 min warm ischemic (WI) livers, where only the last group did not survive transplantation. We first constructed a multi-way partial least squares discriminant analysis (MPLSDA) model to assess what the acceptable degree of ischemic damage of each liver was for successful transplantation (> 1 month survival) and classified them as fresh or ischemic based on their urea, lactate and glucose profiles during perfusion. We also constructed fresh liver and ischemic liver successful perfusion models using multi-way principal component analysis (MPCA). Once a new liver was identified as fresh or ischemic, the corresponding MPCA model determined the SPE-distance of the given liver to the reference livers used in model-building, hence, constructing a predictive fitness index for transplantation based on SPE statistics. If the fitness index for the new liver fell within the 99% confidence limits, this would indicate that the liver is suitable for transplantation.
Results
Degree of ischemia and classification
MPLSDA can classify a perfused graft as healthy or ischemic so that a decision can be made about the organ quality and eventually, on its fitness for transplantation by comparing it to sets of successfully transplanted fresh and ischemic livers.
Five fresh liver and five 60 min WI liver perfusions were used in the MPLSDA model (R = 4), 4 PCs explain more than 86% of the variation in X and 99% variation in Y.
Two distinct clusters were observed in the score plot (Figure
1
). 60 min ischemic livers and fresh livers have different urea, lactate, and glucose concentration profiles; hence it was evident that the two groups should be modeled separately for the determination of separate fitness indices for transplantation.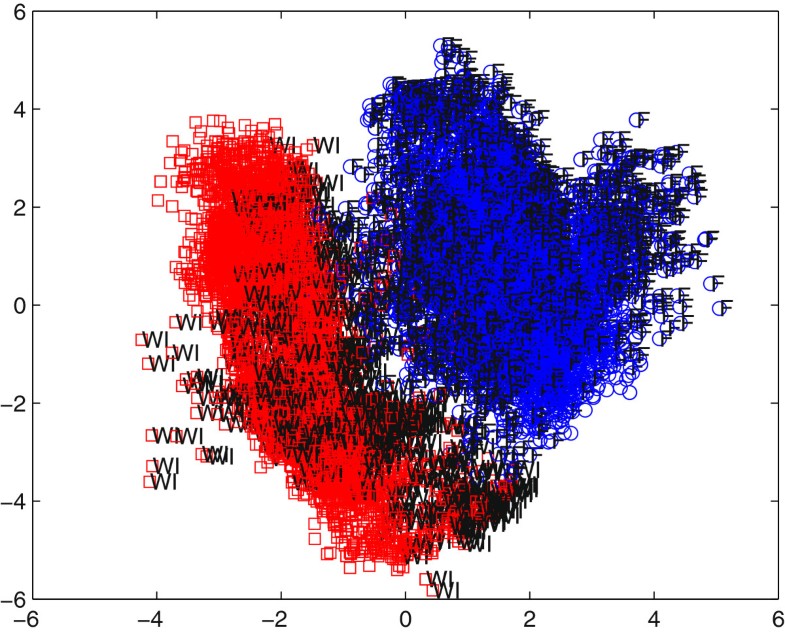 Fitness for transplantation indices for fresh and ischemic livers
Once the MPLSDA determined whether a liver was fresh or ischemic, the corresponding MPCA model and its 99% SPE confidence limits was used as a basis to determine the organ's fitness for transplantation. Accordingly, we considered SPE statistic as a heuristic index for rats for fitness of transplantation, with 99% confidence values of SPEF < 10.03 and SPEWI < 3.92 indicating fitness.
The transplantable fresh livers model and the transplantable ischemic livers model are shown in Figures 
2
and
3
. In the fresh liver MPCA model, the 60 min and the 90 min ischemic livers are outside of the limits since they do not retain the same concentration profiles of transplantable fresh livers (Figure
2
). The SPE values for 90 min WI livers are the largest, indicating a larger qualitative difference to fresh livers than 60 min WI livers. Next, the 90 min WI liver perfusions were projected onto the 60 min WI liver perfusions MPCA model. The 99% confidence limit, SPE
WI
 < 3.92, for transplantable warm ischemic livers was used and all of the 90 min WI livers were outside the limits, affirming that these livers were not fit for transplantation (Figure
3
).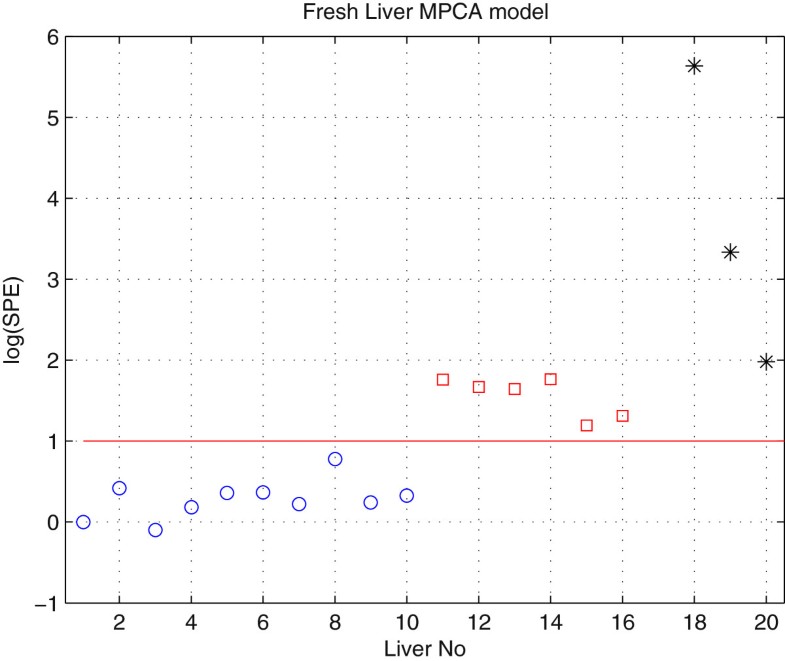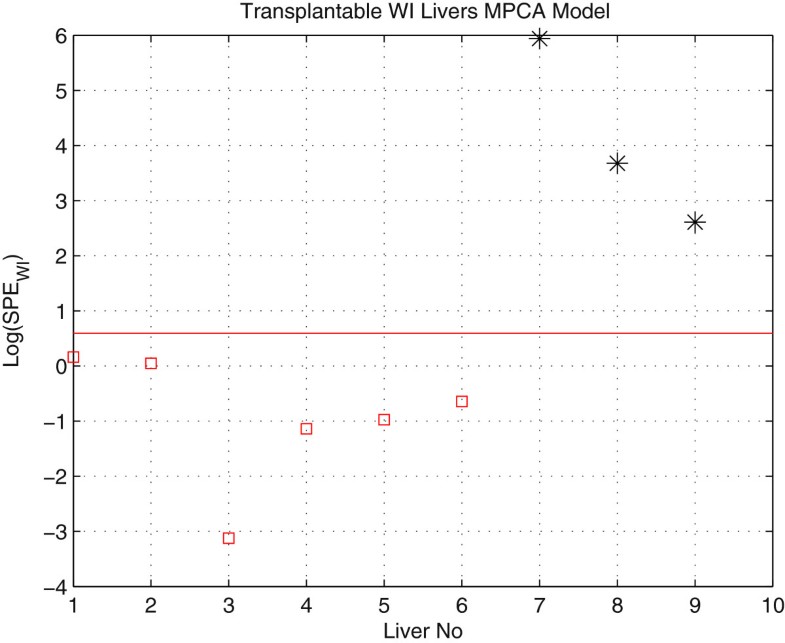 The classification followed by SPE calculation scheme for the determination of transplantation fitness yields the results given in Table
2
. For each liver, the incorrect predictions are summed and averaged over the number of times the liver has been picked for model-testing out of 1000 runs. The incorrect predictions are due to the deficiency of the MPLSDA classification (specificity ~ 90%), where some of the fresh livers are confused as ischemic livers. This scheme is able to successfully predict (no misclassifications) that the 90 min ischemic livers were not fit for transplantation.
Table 2
Fitness for transplantation predictions
| Fresh liver No | Incorrect predictions* (%) | 60 min WI liver No | Incorrect predictions* (%) | 90 min WI liver No | Incorrect predictions* (%) |
| --- | --- | --- | --- | --- | --- |
| 1 | 10.08 | 1 | 0 | 1 | 0 |
| 2 | 1.53 | 2 | 0 | 2 | 0 |
| 3 | 21.35 | 3 | 3.60 | 3 | 0 |
| 4 | 0 | 4 | 0 | | |
| 5 | 0 | 5 | 17.85 | | |
| 6 | 0 | 6 | 0 | | |
| 7 | 0 | | | | |
| 8 | 3.63 | | | | |
| 9 | 7.82 | | | | |
| 10 | 0 | | | | |
Discussions and conclusion
In this work we introduce statistical process monitoring methodologies that employ liver metabolic performance to evaluate the degree of ischemic injury cadaveric organs have sustained and, based on the degree of injury, determine the fitness for transplantation.
The multivariate analyses performed demonstrated that ischemic and fresh rat livers are easily distinguishable from each other and accurately classifiable based on their metabolic function after exposure to different durations of ischemia. Our MPLSDA-based classification algorithm was able to determine the quality of a new liver as fresh or ischemic with ~90% specificity. Once the liver quality was determined, MPCA-based SPE statistic enabled its comparison to reference fresh or reference ischemic livers, gauging the extent of recovery to a transplantable state.
We therefore conclude that the SPE statistic can be employed as an accurate and continuous index of fitness for transplantation for perfused rat livers. Based on our data, cutoff values for SPE for fresh and ischemic livers were determined to be used as heuristic limits of fitness for transplantation. This analysis can be further expanded to explore the correlations between metabolic function and traditional tests of cellular injury, and translated to human livers for a clinically applicable graft quality assessment and an index of transplantation.
The analyses performed in this work all confirm that a metabolic index of ischemic injury is a feasible idea for evaluation of perfused ischemic livers, and such a measure would be of significant use in utilization of DCD livers for transplantation. This study demonstrates the power of SPM methodologies in achieving this goal; however, further work is needed to enrich the data used here for more sophisticated metabolic analyses which may reveal underlying details of cellular injury in the context of transplantability, as well as translation to clinical studies.
Abbreviations
DBD:

Donors after brain death
DCD:

Donors after cardiac death
IVC:

Inferior vena cava
MPCA:

Multi-way principal component analysis
MPLS:

Multi-way partial least squares
MPLSDA:

Multi-way partial least squares discriminant analysis
NIPALS:

Nonlinear iterative partial least squares
NMP:

Normothermic machine perfusion
PC:

Principal component
PCA:

Principal components analysis
PLS:

Partial least squares
PV:

Portal vein
SPE:

Squared Prediction Error
SPM:

Statistical Process Monitoring
uDCD:

Uncontrolled DCD.
Declarations
Acknowledgments
Funding from the National Institutes of Health (R01DK096075, R01EB008678, R00DK080942, K99DK088962), and the Shriners Hospitals for Children are gratefully acknowledged.
Authors' Affiliations
(1)
Center for Engineering in Medicine, Massachusetts General Hospital, Harvard Medical School, and the Shriners Hospitals for Children, Boston, USA
(2)
Division of Cardiac and Vascular Surgery, University Hospital Zurich, Zurich, Switzerland
(3)
Department of Biomedical Engineering, Rutgers University, Piscataway, USA
Copyright
© Perk et al.; licensee BioMed Central Ltd. 2012
This article is published under license to BioMed Central Ltd. This is an Open Access article distributed under the terms of the Creative Commons Attribution License (http://creativecommons.org/licenses/by/2.0), which permits unrestricted use, distribution, and reproduction in any medium, provided the original work is properly cited.