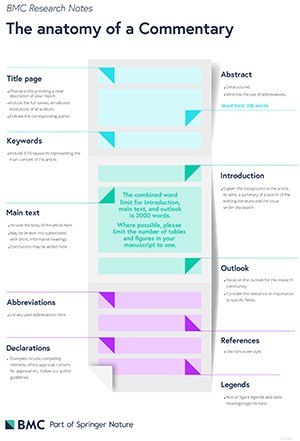 Commentary articles are of contemporary interest and cover topics relevant to the journal's scope, values and ethos. These articles should not contain primary research and are considered thought-provoking opinion pieces or guidance documents on topics including:
Open Science

Reporting standards
Peer review
Open Data

Scientific publishing
Sustainability and sustainable development goals
Diversity, equity and inclusion within science and medicine

Articles should not exceed 2000 words and are not minireviews, or pooled or bibliometric analyses of selected published research.
Most Commentary articles are commissioned by the Editor of BMC Research Notes and we do not encourage unsolicited submissions for this type of article. Commentary articles may be considered at the Editor's discretion and their decision on consideration is considered final.
All Commentary articles published by BMC Research Notes are peer-reviewed.
Data sharing
BMC Research Notes strongly supports open research, including transparency and openness in reporting. Further details of our Data availability policy can be found on the journal's About page.